Black Gate 14 Sneak Peek: "Devil on the Wind" by Michael Jasper & Jay Lake
Black Gate 14 Sneak Peek: "Devil on the Wind" by Michael Jasper & Jay Lake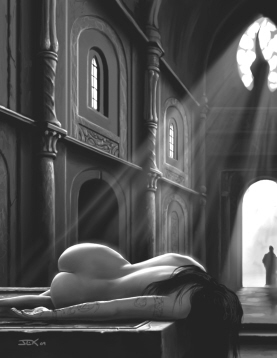 It was Lena's fifth suicide. Such was the way of the Killaster Witches. But as ambitious as she was, Lena's schemes for revenge might not be quite treacherous enough…
     After a few more steps, I realized Rego was no longer behind me.
     From the corner of my eye, I could see him. He was not alone.
     "Lena…" His voice was thick with fear. "Should've gone 'round."
     Dripping dirt, dust, and strips of leathered flesh, four corpses had risen from the dirt to surround Rego. His mount's back was arched, its tail puffed up and thick. The skeletal hands clattered as they beat ragged chests and yellowed ribcages, inching closer to Rego. They glowed with the same sickly light as the cauldron beast. Even as I watched, more corpses pulled themselves from their shallow, unmarked graves.
Michael Jasper has three novels in print, and his collection Gunning for the Buddha is now available from Prime.  Jay Lake is the award-winning author of over 250 short stories and ten novels, including Green and Escapement.
"Devil on the Wind" appears in Black Gate 14.  You can read a more complete excerpt here.
Note: this story contains some adult themes.
The complete Black Gate 14 Sneak Peek is available here.
Art by John Kaufmann.