Rich Horton reviews Black Gate 13
Rich Horton reviews Black Gate 13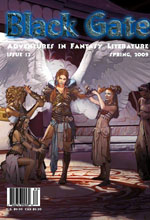 Every year, uberreviewer Rich Horton sets out to summarize the year in genre short fiction at his newsgroup on SFFNet.
Note I didn't say "survey," or "overview."  Rich reads every story in every single magazine in the field — and more than a few outside it — and discusses each publication in detail.  It's a process that takes months (not including reading time). As he put it in his final post last year:
I read various issues of 36 print magazines, 29 electronic sources, 50 original anthologies, 14 story collections with original pieces, 12 single story chapbooks, and a few other miscellaneous spots. I read a total of 2325 stories: 69 novellas, 434 novelettes, and 1823 short stories… word count total, a bit over 13.5 million.
Is he crazy? (That's not a rhetorical question. The answer is probably yes.) But until he's institutionalized, the rest of us benefit greatly from both his stamina and his superior taste.
How do we know his taste is superb? Because he likes Black Gate, for one thing.
It remains a beautiful thick magazine, with a strong and successful focus on adventure fantasy, and with a welcome (to me) tropism towards longer stories.
Oh, and he's also a Contributing Editor to BG (but you knew that).
This year, Rich selects Mark Sumner's final installment in The Naturalist as his favorite:
My favorite story this year was the third and last in Mark Sumner's series The Naturalist, this episode called "St. George and the Antriders." In an alternate 19th Century Central America, naturalist Mr. Brown and the resourceful landowner Miss Marlowe lead a band of refugees back to the capital city where they find the corrupt governorship of the territory as menacing as the antriders. The series as a whole is novel length, and while each individual story stands well enough alone they make a sufficiently unified whole that I could see The Naturalist as a book. (I wouldn't entirely rule out sequels, either, though the main story is definitely resolved here.)
He also liked several additional pieces:
I also liked Sharon E. Wood's "Silk and Glass", which featured a slightly unusual main character — a glass serpent who can also be a woman — in a dangerous, treacherous mission to gain her freedom. Other particularly interesting work came from Justin Stanchfield and Mikal Trimm, and from David Wesley Hill.
You can read the complete summary here.
Thanks Rich!