Brent Knowles reviews Black Gate 13
Brent Knowles reviews Black Gate 13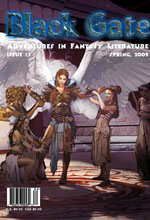 Long-time reader and professional writer Brent Knowles recently posted a review of Black Gate 13:
I have every issue of Black Gate… a fantastic magazine. I subscribe to the print issue, but there is now a digital copy available too.
 Brent highlights several pieces, including "Naktong Flow" by Myke Cole:
A very strong and realistic, yet exotic, world, solidly anchors this story. Much like The Naturalist, which I'll get to later, this is the kind of story that immerses you in a world first, a world that could only exist in this story, the only world in which this story could exist. Much of the 'fun' of reading a story like this is in being exposed to culture, that while based on our world is injected with such imagination and originality that it carries the story even if it is not that strong. And better yet, this story is strong, with an interesting protagonist. Great!
And "Spider Friend" by L. Blunt Jackson:
An unique fable, told competently, this is one of my favorite stories this time around. A man gains the blessings of spiders, but, as is so often the case is tempted to walk away from what is good in his life, for what he desires.
And the final installment of Mark Sumner's novel The Naturalist:
 I have enjoyed the previous two parts to this story and the third is no different. This is a world I could imagine living in, it feels real, authentic, a variation of our own world with just enough of the marvelous/horrible to make this a tale of the fantastic. A very satisfying conclusion to a fabulous adventure. 
The complete review is here.
Thanks Brent! Stay tuned for issue 14, coming soon!