HBO's A Game of Thrones
HBO's A Game of Thrones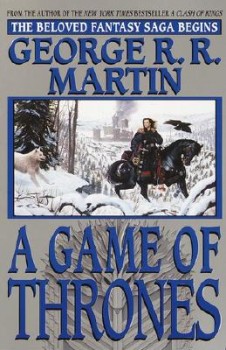 Reading James' post on Wednesday about the fan angst surrounding George R. R. Martin's A Song of Ice and Fire series (and some of the unnecessarily blunt backlash), I started thinking about just how much I know about this hugely popular saga which I have actually never read. Indeed, having not even read it, I can say I am predisposed to already like it but, as Dave commented on James post, I'm also one of those people who tends not to buy into series with no end in sight.
However, with the announcement that Martin's A Game of Thrones is being seriously considered for an HBO series, with a pilot already in the works, that rule is going to have to get chucked out of the window.
I'm rather hugely excited about the prospect of an adult fantasy series — 10 hours or so of serious, secondary world, medieval-inspired fantasy — being delivered to my living room sometime next year. Not that anything is certain yet — but I have to be optimistic with this one. And I'm not just giddy at the prospect of my own selfish enjoyment of an epic of politics and battles in a fantasy world, I see this as a potential sea-change in the way the public regards secondary world fantasy.
Of course, Jackson's Lord of the Rings was tremendously received, and spawned a lot of imitation (though not nearly as much as I would have predicted), but it still remains somewhat singular. And I don't think it challenged any notions of what fantasy is among the general public — if it was enjoyed by millions of adults it was also, I think, safely relegated to a certain category of film that can be enjoyed by all ages.
Not that there is anything wrong with that, but I think a project like HBO's A Game of Thrones has the potential to change the way adults look at the genre. Giving us something as brutally human as Deadwood, or as racy and intricate as The Tudors, or as emotionally absorbing as Band of Brothers — in short giving us something that could probably only be achieved through the medium of cable television — will change the perception of the genre for the better.
This could be the cusp of a new fantasy renaissance, and A Game of Thrones could be the thing that cements a mainstream acceptance and engenders a new enthusiasm for the form. At least, that's what I'm pulling for.
To keep abreast of the series as it develops check out Martin's news site, or a site dedicated purely to the series, Winter is Coming.
__________
BILL WARD is a genre writer, editor, and blogger wanted across the Outer Colonies for crimes against the written word. His fiction has appeared in numerous magazines and anthologies, as well as gaming supplements and websites. He is a Contributing Editor and reviewer for Black Gate Magazine, and 423rd in line for the throne of Lost Lemuria. Read more at BILL's blog, DEEP DOWN GENRE HOUND.