Black Gate Short Fiction Reviews
Black Gate Short Fiction Reviews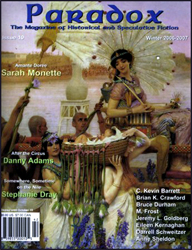 Time and History are on the agenda in David Soyka's latest fiction reviews for Black Gate readers.
In Paradox Magazine #10, Soyka tells how author C. Kevin Barrett succeeds where so many others fail in their depictions of alternate history, and delves into new tales from Sarah Monette and Danny Adams, among others.
Meanwhile, Interzone 210 offers compelling new fiction by Rachel Swirsky and Tim Akers. . . but is the magazine's cover more misleading than matter-of-fact? Dive into David's review and find out.