Black Gate 11
Black Gate 11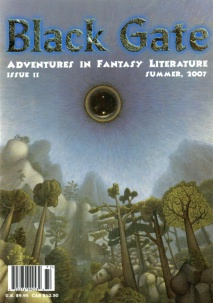 Black Gate 11 is now at the printers — and it promises to be our best issue yet, as Martha Wells, James Enge, Iain Rowan, and Mark Sumner all return with big new installments building on the action in Black Gate 10. Join us for the first meeting of Giliead & Ilias, as Morlock the Maker assists a small fraternity of warriors in desperate battle against the dreaded Boneless One, Dao Shi the exorcist comes face to face with an unkillable demon deep in the Underworld, and The Naturalist returns to civilization to warn of the approach of the terror from the interior.
That's not all — Maria V. Snyder, Peadar Ó Guilín, William I. Lengeman III and many others offer exciting new stories. A dead wizard hires a thief to break into his tower and uncover a deadly secret, a man fights to save his son from a woman whose charms are literally irresistible, and a modern father is inducted into Valhalla after a particularly challenging roller coaster ride. All that plus four pages of Knights of the Dinner Table. It's 224 pages of the best in modern adventure fantasy!
Follow the link to a sneak peek of Black Gate 11, with story excerpts, artwork, and even a look at "Neglected Stories from the SF Magazines" from Rich Horton. Subscribe Now so you don't miss out!