Black Gate 9
Black Gate 9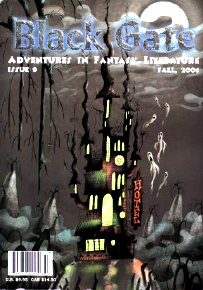 Morlock the Maker — last seen in "Turn Up This Crooked Way" in Black Gate 8 — is lured into an ingenious trap by a master of golems. . . a peerless samurai encounters the greatest test of his life when he allows an old man to taunt him into battle. . . a young girl searches for a pet in a neighborhood haunted by deathwalkers and Avatar monsters. . . a bard strives to rally a tribe of Danes as they're struck down one-by-one by an unseen monster. . . and a young scientist desperately races against time to rescue two inter-dimensional travelers trapped in a world of horrors.
This issue includes fiction from William John Watkins, James Enge, Murray Leinster, Michael Canfield, and many others. Rich Horton continues his popular series of genre retrospectives with a look at Retro-Hugos That Will Never Be, plus there are columns and reviews from Don Bassingthwaite, Steven Silver, and Todd McAulty.
All this and much more. Subscribe Now to make sure you don't miss out, and we'll include a copy of the acclaimed Lords of Swords for only $4.95, while quantities last!
Don't miss it!