Black Gate 6
Black Gate 6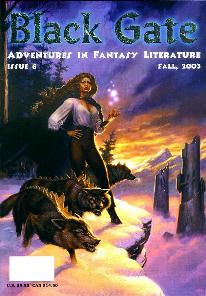 An exorcist in Ancient China stumbles across far more than he bargained for…an escaped serf in a world of dangerous dimensional portals learns that fortune indeed favors the bold…an aging monarch receives the potentially lethal gift of a slave girl, the last living child of a dead Mage King…and a young man leads a ragtag band of soldiers to the surface to face the horrid invaders of Earth for the first time in millennia.
It's all in the big fall issue of Black Gate. Have a look at our online sneak peek, featuring artwork, excerpts, and more. Our action-packed sixth issue contains new fiction from Mark W. Tiedemann, Rick Norwood, Iain Rowan, Karen Jordan Allen, and the novel-length pulp reprint "Tumithak in Shawn," the sequel to last issue's epic "Tumithak of the Corridors" by Charles R. Tanner.
All this plus the next hilarious installment of the Knights of the Dinner Table comic. Don't miss it!