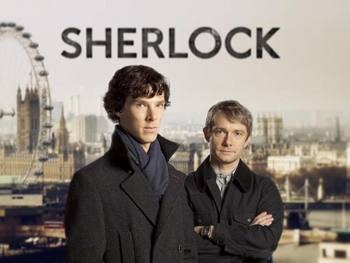 Me? Oh, why, thank you for asking. I've been into Sherlock Holmes since the early eighties. Columnist, contributor, reviewer, short story writer, screenwriter, newsletter editor, website creator: I've found many ways to express my Holmes geekiness.
I used to run a Holmes On Screen website, which I dropped just before the first Robert Downey, Jr. movie: how's that for timing? Swing by www.SolarPons.com to see my (not one, but) two free, online newsletters inspired by the world's first private consulting detective.
If you have a pulse, you may have noticed that Sherlock Holmes is rather popular these days. In the mid-eighties, the British TV series starring Jeremy Brett had revived interest in the detective. That interest waned as Brett's health deteriorated and the series quality fell off towards the end. A few made-for-television movies, including ones starring Matthew Frewer (that Max Headroom guy), Richard Roxburgh and Rupert Everett, didn't generate much excitement. Sherlock Holmes and the Vengeance of Dracula, once the hottest script in Hollywood, lost its luster and became a dead property. Sherlock Holmes was as viable as Martin Hewitt.* "Who," you say? Exactly.
Then, on Christmas day, 2009, Guy Ritchie's Sherlock Holmes opened and grossed over a half a billion dollars worldwide. A sequel did even better here and abroad. Mark Gattis and Steven Moffat deciding to expand beyond Doctor Who, grabbed Benedict Cumberbatch and Martin Freeman, put them in modern day London and helped make Sherlock Holmes even more popular than during the stories' initial run with their simply titled Sherlock.
---