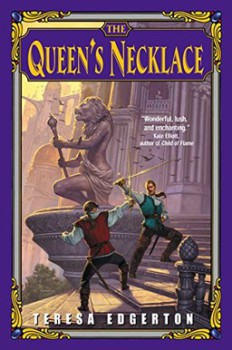 The Queen's Necklace (2001) by Teresa Edgerton (with its title borrowed from Alexandre Dumas) is a perfectly splendid swashbuckling adventure in an Age of Reason-like world as it teeters on the precipice of collapse.
For five thousand, years Goblins using powerful magical gems ruled the world, keeping Humans enslaved and uneducated. Fifteeen hundred years ago, Humanity rose up and slaughtered most — but not all — of the Goblins. Now a millennium of plotting by the Goblin aristocracy is about to culminate in their return to power in a wave of chaos and destruction.
The Queen's Necklace (TQN) is one of the many (too many!) books that's sat unread for years on my shelf. Ocassionally the thought would occur to me to pull it down and finally give it a go, but I never followed through. When I reread and reviewed Edgerton's earlier novel Goblin Moon this summer, she suggested I give The Queen's Necklace a try, mentioning that it was possibly going to be reprinted in the autumn. So I figured, what the heck, I had bought it with every intention of reading it at some point, so why not now? And I'm glad I did.
While not connected to Goblin Moon and its sequel, The Gnome's Engine, TQN occurs in a similar Enlightenment setting. There are perfumed fops, dueling rakes, mysterious women, and equal parts quackery, science, and magic.
---