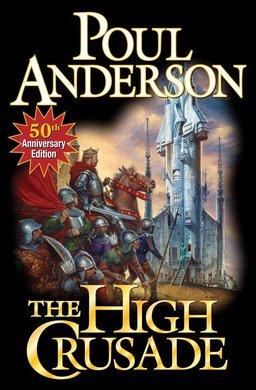 If Three Hearts and Three Lions owes something to A Connecticut Yankee in King Arthur's Court, then so does The High Crusade. But The High Crusade inverts Mark Twain's concept. This book isn't written by a modern who time traveled to Arthur's court, but rather is written by a medieval scribe who witnessed Sir Roger Baron de Tourneville and his knights and court invade an alien spaceship and end up using it to conquer a major portion of interstellar Space. The bookends are provided by a space captain of Earth's future space age, who hardly can believe, by reading the contained epistle, that humans from the Middle Ages have been in space for some time now and even have established a Holy Galactic Empire. Add to this, at the plot's center, a courtly betrayal through a love triangle much like that of Arthur's, Guinevere's and Lancelot's.
This book is really good. It's a fast, enjoyable read. It was serialized originally in Astounding magazine as that publication was changing its name to Analog. When the book was published as a novel, it lost out on a 1961 Hugo to Walter M. Miller, Jr.'s A Canticle for Leibowitz. I find it interesting that Miller's work, along with Anderson's The High Crusade, limned medieval perspectives on futuristic landscapes. Perhaps this was the zeitgeist of the time. I read Baen's edition of The High Crusade, which begins with a number of appreciations. This edition also contains a coda in the form of a short story called "Quest", which takes place in the universe of The High Crusade. If the novel is a take on the Arthurian love triangle, then this story is a take on Galahad's quest for the holy grail.
Also really good is what Wikipedia calls a historical novel and what Zebra, one publisher, calls heroic fantasy, though I certainly see no reason to quibble about terms of genre, and I'm guessing that terms were not so rigid in 1960 (or even in 1980, which is the date of the revised Zebra edition). I am talking about Poul Anderson's The Golden Slave.
---