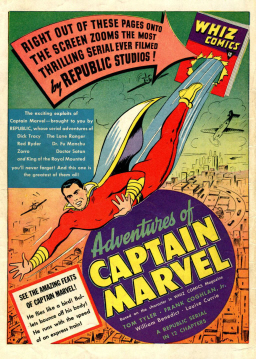 Ah, the excitement in the theater is palpable as we near the end of our journey and today's eleventh chapter in The Adventures of Captain Marvel, "Valley of Death," begins to flicker across the screen. Because the seats are largely filled with sweaty elementary school children, something else is palpable too — whew! Baths and showers are definitely called for when you get home, kids…
Today's title cards summarizing Chapter Ten will, as always, enlighten the enlightenable and confuse the confusable. (Or maybe it's the other way around.) "Malcolm — Is shipwrecked on a reef off the coast of Siam." "Captain Marvel — Rescues Malcolm's party and the crew from the S.S. Carfax." "Betty — Is left aboard ship by the Scorpion." Now it's time for the word we've come to know so well, though I'm sure only a few of you remember exactly what the letters mean. Me? Of course I know… but, uh, we've no time to waste with trivia… Shazam!
A flashback to the previous cliffhanger puts us with Billy and the unconscious Betty on board the sinking Carfax (and if the title card says it's the Carfax, that's good enough for me). As the ship goes down and water pours into Betty's cabin, Billy gets himself and Betty off the doomed vessel (a judicious cut ensures that we don't quite see how) and manages to swim to shore with the buoyant secretary in tow. It's a good thing he decided to skip band camp last summer and take those swimming lessons at the YMCA.
Once on dry ground, Betty relates how an unknown assailant struck her from behind. "Why would anyone want to kill you?" Billy asks. "He must have been after my section of the map; he took my handbag," Betty replies. Everyone seems satisfied with this explanation. This is 1941 and it won't do to entertain the idea that the Scorpion just wanted the purse. But what of the map? It wasn't in the bag — "It's in a waterproof envelope pinned inside my jacket." At this news, Bentley looks like a kid who wanted the big new Hot Wheels set for Christmas and instead got one of those last-resort toys that isn't even really a toy, like a grip-strengthener.
---