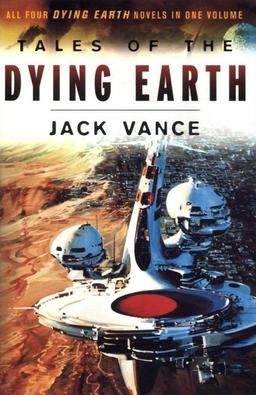 I've been reading Jack Vance recently. My interest was initially piqued by the beautiful collections of his earliest stories from Subterranean Press, The Early Jack Vance, including the upcoming fifth book, Grand Crusades. Two weeks ago I started a project to examine the current crop of omnibus volumes collecting his most popular series, starting with Planet of Adventure.
Part of the reason I do this, of course, is that these books are a terrific value for collectors and new readers alike, gathering as they do multiple novels — many of which have been out of print for decades — in inexpensive trade paperbacks. But seeing these fat volumes on bookshelves doesn't always do anything for me… until I have a clear picture of exactly what's inside.
I'm a visual guy, so for me that usually means the covers of the original paperbacks. Once I see those, these handsome omnibus volumes become a lot more desirable.
Of course, we're dealing with Jack Vance here. His books were some of the most popular fantasy of the Twentieth Century, and went through multiple editions from a whole host of publishers. And his Dying Earth novels are perhaps his most popular and enduring works — I count more than two dozen English language editions just of the first book alone, since it first appeared in paperback in 1950.
So that presents a bit of a quandary. What I'm aiming to do here is provide a snapshot of the books contained within Tales of the Dying Earth that will jog the memory of the casual reader… perhaps remind them of that fascinating paperback they picked up at the cabin back in 1979, or that forgotten series they briefly glimpsed on bookstore shelves in 1994. I won't attempt to catalog every appearance of the four novels in the Dying Earth sequence here, but instead just focus on the most popular editions that have been in circulation for the last sixty years or so.
I hope that if this article does jog your memory, perhaps reminding you of that long-forgotten paperback copy of Eyes of the Overworld or Rhialto the Marvelous you devoured twenty summers ago, you'll seek out one of these omnibus editions and give it a try. The publishers who have brought these vintage classics back into print deserve your support.
---