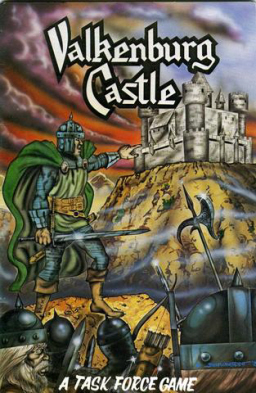 All this recent talk of Star Fleet Battles and Metagaming's classic microgames like Ogre and Wizard has me thinking of other great pocket games of my youth.
Now, "great" is a relative term. The elements that make a typical fantasy board game great — things like style, richness of setting, and diversity of play — don't apply to microgames. The things that make a pocket game great are inventiveness, fast play, and simplicity.
Although a great setting and a little style don't hurt, either.
Task Force Games was the king of pocket games in the early 1980s. Much of that was by virtue of its one runaway success, Star Fleet Battles; but it had an impressive line of other fantasy and SF titles, including Swordquest (which I discussed last June); Starfire (which eventually inspired a series of science fiction novels from David Weber and Steve White); Intruder, which pits a desperate crew against a lethal alien in deep space (clearly inspired by the movie Alien); Spellbinder; City States of Arklyrell; and over a dozen more (there's a nice survey here and a complete list here).
But Valkenburg Castle was the first, and it's still my favorite. It was almost completely unique in 1980 — a board game that captured the essential gestalt of fantasy role playing, although in a slightly abstracted fashion: penetrating a dark and foreboding stronghold, confronting the unwholesome creatures within, and winning glory through cleverness and force of arms.
The premise of Valkenburg Castle was simple. You play as the young Lord Hobart van Valkenburg, rightful heir, returning at last to the place where his grandfather was murdered and his family first driven into exile. The castle is now monster-infested, home to sinister and powerful beasts who lurk somewhere in its depths.
To win back his ancestral home, Lord Hobart must explore the twisting ruins of a castle he has never before seen and drive out the dark forces who have made it their home — including the powerful creatures who lair at the deepest dungeons levels.
---