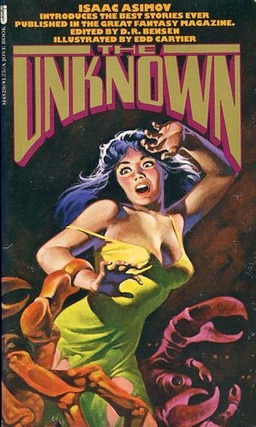 In all of our recent discussions of pulps, we have sorely neglected one of the greatest pulp fantasy magazines of all time: John W. Campbell's magnificent Unknown. It wasn't deliberate; we've just been focusing on Amazing Stories, Galaxy and the pulp roots of Dungeons and Dragons of late.
So to do a little catch-up, I thought I'd talk about a splendid anthology I've been reading this weekend: The Unknown, a collection of ten short stories and one novelette from the pages of Unknown. If you'll allow me, I'd like to quote from the Wikipedia entry on Unknown, since I think it does a fine job of summarizing the genesis and impact of Campbell's great experiment in fantasy:
Unknown (also known as Unknown Worlds) was an American pulp fantasy fiction magazine, published from 1939 to 1943 by Street & Smith, and edited by John W. Campbell. Unknown was a companion to Street & Smith's science fiction pulp, Astounding Science Fiction, which was also edited by Campbell at the time; many authors and illustrators contributed to both magazines. The leading fantasy magazine in the 1930s was Weird Tales, which focused on shock and horror. Campbell wanted to publish a fantasy magazine with more finesse and humor than Weird Tales, and put his plans into action when Eric Frank Russell sent him the manuscript of his novel Sinister Barrier, about aliens who own the human race… The magazine is generally regarded as the finest fantasy fiction magazine ever published, despite the fact that it was not commercially successful, and in the opinion of science fiction historian Mike Ashley it was responsible for the creation of the modern fantasy publishing genre.
The Unknown contains an excellent survey of Unknown magazine, with entertaining editorial comments and fiction contributions from Henry Kuttner, Nelson S. Bond, Theodore Sturgeon, L. Sprague de Camp, H. L. Gold, Manly Wade Wellman, Fredric Brown, and Anthony Boucher — plus a Fafhrd and the Gray Mouser tale from Fritz Leiber, and more.
It also reprints interior art from the magazine by the great Edd Cartier (see a sample here), who painted the covers for many Unknown issues. I wish more paperbacks from the era did this, as I found the artwork delightful.
---