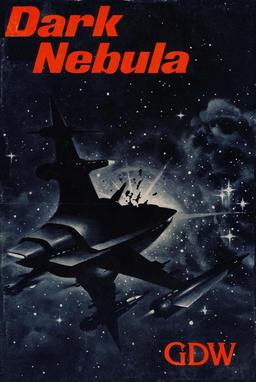 In this new Golden Age of science fiction and fantasy board games, when all the chatter is about the latest and greatest mega-games (when it isn't about the big Fantasy Flight Holiday Sale), I'd like to take a moment to appreciate two classic games of interstellar combat: GDW's Imperium and Dark Nebula, originally published in 1977 and 1980.
Both may appear simplistic compared to modern games of empire-building in space, like Eclipse, EVE Conquests, or Empires of the Void. At first glance, they may seem more comparable to fast-action games like Perry Rhodan: The Cosmic League, Astra Titanus, or the Warhammer 40K game Relic.
But just because both are packaged in relatively small boxes with a slender set of rules doesn't mean they aren't ambitious and nuanced games. Both are set in the Traveller universe designed by Marc Miller and, if you're familiar with that game, they're a great way to play out some of the far-ranging conflicts that shaped The Third Imperium.
Although it's probably more accurate to say that Dark Nebula shared a setting with Imperium, which gradually became part of the Traveller universe. Imperium, an ambitious two-player game of space empire conflict set in 22nd Century, was released by GDW in 1977 — the same year the company also published Traveller.  Imperium had a very intriguing backstory, with two great empires in conflict, hints of failed diplomacy, and a vast stellar empire in slow decline.
Conversely, the original boxed edition of Traveller didn't really have a setting — it was sort of a generic system for role playing in space, and it drew on the popular vision of a galaxy-spanning human civilization found in the science fiction of the time by Poul Anderson, Isaac Asimov, Keith Laumer, H. Beam Piper, and others. It was a game desperately in need of a rich setting, and it found one in Imperium.
---