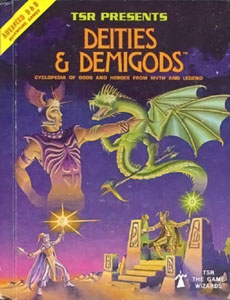 One of the most fun, crazy, and controversial tomes to come out of Advanced Dungeons & Dragons was, without a doubt, Deities and Demigods (1980).
More wide-ranging (and less Eurocentric) than Bullfinch's Mythology and Hamilton's Mythology combined, here was a smorgasbord of most of the world's major (and not-so-major) mythologies, presented as a one-stop shop for your player-character to choose a god or otherworldly entity to pledge fealty to and/r worship.
The vitriol of the religious right aside, Deities and Demigods did have its more thoughtful critics. In game terms, the early editions were kinda silly. Even though they assigned crazy-huge hit points and breathtakingly strong armor classes to the gods, said deities still had stats that could be overcome by powerful enough characters. As one critic observed, the book essentially turned the world's deities into higher-level "monsters" to defeat — "bosses" for your 20th-level party to challenge. No room here for some metaphysical idea of a being that exists above corporeal, material reality and therefore cannot be "hurt" by a sword with a high-enough bonus modifier.
Later editions of Deities and Demigods (or Legends and Lore, as it was known for a time) ameliorated this "big boss" mentality by introducing the concept that some gods that characters physically encountered were but avatars, "aspects" or physical incarnations of gods who, being immortal and transcendent, could not really be killed.
That's cool. Still, it is kind of fun — in a juvenile way — to leaf through Deities and Demigods asking such questions as "Who would win in a fight: Zeus or Odin?"
---