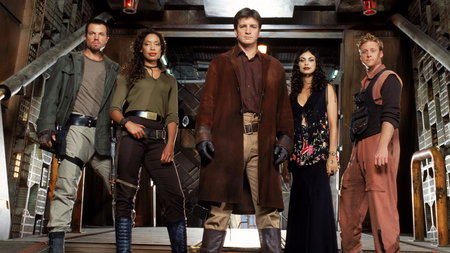 Oh yes! We're reaching the midway point of the first, and only, season of Firefly. I covered the pilot in Part 1, episodes two and three ("Train Job" and "Bushwhacked ") in Part 2, and four and five ("Shindig" and "Safe ") in Part 3.
If you've been reading this far, you know my feelings about the series. Some have postulated that perhaps we hold it in such high esteem because it was taken from us too soon. Well, in re-watching these episodes again, I was even more enthralled and entertained than the first (or second, or third…) time I saw them.
Today, we're going to dive into two more episodes. Rev up the engine, Kaylee. It's time to be a leaf on the wind.
Our Mrs. Reynolds (Episode 6)
A man and his wife driving a covered wagon are ambushed by bandits. The couple turn out to be Jayne and Mal (in drag), posing as settlers. When the bandit leader demands some personal time with the missus, Jayne replies that he married "a powerful ugly woman." Mal and Jayne pull guns on the desperados.
A firefight ensues and Zoe pops out of the back of the wagon, gun blazing.
---