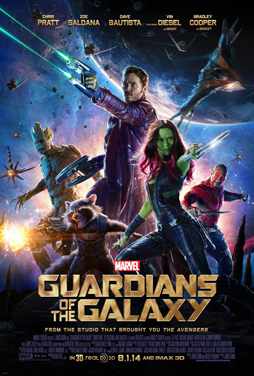 I'm going to break from the chronological record I've been keeping of the Fantasia Festival to write a bit here about a movie I saw last night. I'm going to do this on the off chance that my doing so may help some of you decide what you'll be doing with a couple hours of your upcoming weekend. On Tuesday at 7:30, Fantasia presented the Canadian premiere of Guardians of the Galaxy and I was there.
It's a fun, fine movie. It's not a great movie, I feel, and not even the greatest Marvel movie — I didn't think it was as good as The Avengers or Captain America 2. But it's another solid entry in Marvel's growing filmography. That said, it's not really a super-hero movie, but space opera: a group of ragtag adventurers in outer space come together when the retrieval of a mysterious artifact from a dead world leads to the emergence of a threat to the galaxy. Directed by James Gunn from a script by Gunn and Nicole Perlman, it moves swiftly and easily over familiar terrain, primarily using ideas and concepts from Dan Abnett and Andy Lanning's excellent run on Marvel's space-oriented comics — notably Nova and Guardians of the Galaxy.
It's filled with adventure and action scenes. It's also filled with humour, and largely successful humour at that. The characters are engaging, with each of the heroes distinctive and developed as individuals — though the villains of the piece are underplayed. There are moments of real strangeness, though I'm not sure the richness of the ideas in the original comics always come across. And the worldbuilding — or galaxybuilding — is so minimal that the scope of the film feels limited as a result. Still, this is a tightly-constructed high-velocity movie with a surprising amount of warmth. It's a story about outcasts coming together for the common good and learning to be better as a group than they could have been apart. There's nothing revolutionary about that, but Guardians does the old idea well.
---