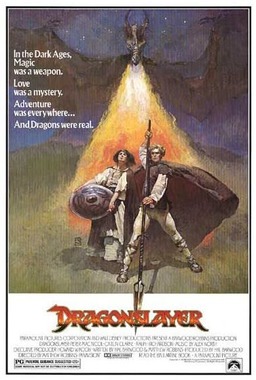 Dragons.
These creatures of legend have captivated our imaginations from the dawn of time. A staple of fantasy literature and culture, they embody power, majesty, and perilous danger.
I'd like to share with you some of my favorites, in no particular order.
Smaug (The Hobbit, J.R.R. Tolkien)
Ah, old Smaug. Wrecker of dwarven homes and stealer of treasures. I can still remember the rapture with which I read this book as a child, with all Bilbo's misadventures leading him toward an epic confrontation with this ancient wyrm.
Without a doubt, Smaug triggered a fascination with dragons that has lasted my entire life. And now with The Hobbit movies coming out, I can re-live that joy in its full splendor on the big screen.
Vermithrax Pejorative (Dragonslayer, Touchstone Pictures)
I saw this movie as a kid, fresh off my love-affair with Smaug. Even though we see precious little of the beast until the final act, just the sounds of its breath rising from the ground and the reactions of the various characters to its presence fill the movie with a wonderful sense of anticipation.
And the final battle between wizard and dragon is pretty damned good for its time. Definitely, a diamond in the rough.
---