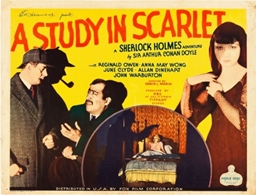 In 1929, Clive Brook's The Return of Sherlock Holmes ushered in the era of 'talkies' featuring the great detective. Although, it was also released as a silent film, likely because many theaters had not yet converted to sound system projectors.
The movies went crazy over Holmes, with three big screen efforts in 1931:The Speckled Band (Raymond Massey), The Sleeping Cardinal (Arthur Wontner) and The Hound of the Baskervilles (Robert Rendel).
Cardinal was released in the US as Sherlock Holmes' Fatal Hour. Rendel's film was thought lost for years, with a print but no soundtrack. However, one was found and the two were merged. I've yet to see (and hear) that one.
Three more movies followed in 1932: The Missing Rembrandt and The Sign of Four (both with Arthur Wontner) and Sherlock Holmes (Clive Brook again). In Brook's second turn as Holmes, his Watson was Reginald Owen, who would achieve success as Ebenezer Scrooge.
1933 saw only one Holmes movie, and it was Owen moving up to the starring role in a version of A Study in Scarlet. Well, sort of.
---