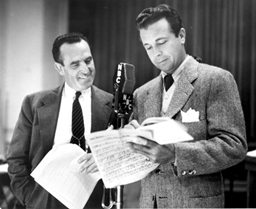 A topic that I've long intended to visit is that of old time radio shows. Of course, it's no surprise that Sherlock Holmes has been a popular subject for radio dramas. Arthur Wontner (who I'm sure you read about here) and William Gillette (again, here…) reprised their film roles for radio.
Richard Gordon, John Stanley and Richard Hobbs had long runs as Holmes. And of course, the most popular film Holmes, Basil Rathbone, had a long-running serial with his Watson, Nigel Bruce.
More recently, Clive Merrison starred in the entire Canon (and more) for BBC Radio. Also, Jim French's Imagination Theater features new Holmes radio dramas (along with several other characters). I'll certainly be writing about that one.
In the forties and fifties, detectives, newspaper reporters and even insurance investigators were popular heroes for radio dramas. Sam Spade, Philip Marlowe, The Fat Man (ostensibly created by Dashiell Hammett) and Johnny Dollar were some of the radio stars of the day. One of the most fun was Richard Diamond, Private Detective.
---