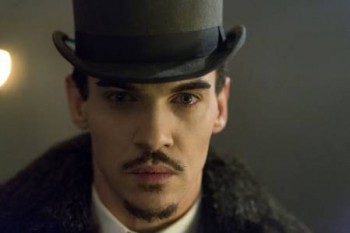 Yes, originally I said the exact same thing.
Give me one good reason why the world needs another retelling of Dracula.
I mean, haven't we suffered enough? As it is, the mythology has been altered so many times to try and make something new out of it, that If Bram Stoker even found out about Edward Cullen, he's be spinning in his grave like a rotisserie ham.
On the other hand, it was probably only a matter of time before network television realized that there is a viewer appetite for old fashioned violence and sexy blood drinking, and why the heck should HBO have all the fun with True Blood anyway?
Which brings me to two good reasons why we may want to listen to the Dracula tale being retold one more time…
Downton Abbey and Jonathan Rhys Meyers.
NBC is launching a Dracula mini-series this fall which will actually take place in 1890s London (as opposed to trying to modernize the story). In this telling, Dracula has assumed the identity of an American entrepreneur with aspirations of bringing modern science and technology to Victorian society.
This is all a ruse of course, as Dracula's true endeavor is the pursuit of revenge against humankind after it nearly destroyed him centuries earlier. The only thing that may spoil his plans for vengeance is the comely young lass he's recently fallen in love with – who may also be the reincarnation of his dead wife.
---