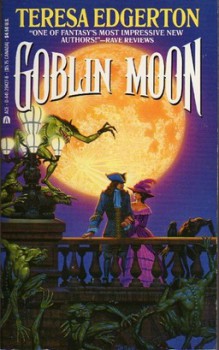 Matthew David Surridge reviewed Teresa Edgerton's Goblin Moon (1991) here at Black Gate early last year, and here I am to write about it again. It's a book that, though recently reprinted, I suspect most readers are unaware of, so I want to shine another spotlight on it. Also, since reading Tim Powers's The Drawing of the Dark, my itch for swashbuckling adventure got itchier.
I read this when it first came out and my memory of it was very pleasant. I remembered loving the dry humor and also the tremendous detail. Now my friend Carl, on the other hand, said he hated any book that spent as much time as it did describing characters' clothes. My response was, if I recall correctly, that he was missing the point or something like that.
On rereading Goblin Moon this past week, I was happy to find that, one, the book held up very well and two, yes, Carl missed the point or something. Actually, the point he missed was that Teresa Edgerton created a deliriously detailed world, down to the clothing, that is richer than just about any other in fantasy.
There are a host of things that make Goblin Moon a fun read. The elaborate world-building, the intricate plot, and the colorful characters, to name an important triumvirate, are exactly the sorts of things you want to find in a book with its roots in Stevenson, Thorndike, and Sabatini. Add a lively pace and clever writing and you've got the perfect way to while away several lazy hours amidst floating coffins, decadent diabolists, a vengeful fairy, and an interlude with pirates.
Goblin Moon opens with a pair of river scavengers, Jed Braun and his uncle Caleb, drawing a coffin out of the waters of the River Lunn. The casket bears the strangely undecayed body of a man and several tomes of dark magic. Their discovery leads Caleb back to an old companion, the bookseller and one-time alchemist Gottfried Jenk, and consequently leaves young Jed in need of a new way to support himself.
---