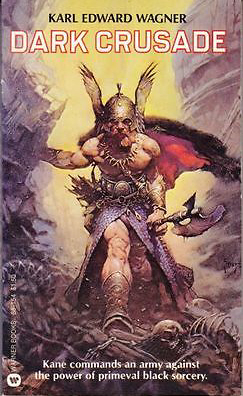 You guys are going to love for me for this. So very much. Someone, somewhere might have mentioned this already, but whatever, now it's my turn.
All of the Kane books, both the novels and short story collections, have been released on Kindle for four or five bucks each, which is a mere three pounds if you live in England. It's kind of bittersweet actually, because it means all that time I spent rummaging around in the musty corners of used bookshops looking for Bloodstone (which I reviewed, by the way) has kind of gone to waste, and anyone that spent around 100 bucks for a copy of Gods in Darkness or Midnight Sun is going to want to curl up in a big ball over there in the corner and have a little cry. So whilst you do that, I'm going to get on with the review, if you don't mind.
Dark Crusade revolves around the rise of the dark Cult of Sataki, its meteoritic domination of the kingdom of Shapeki, the brutal regime it establishes and its enigmatic and mysterious prophet Orted something or other. When Orted's fanatical cult of peasants try to seize the southern kingdoms, they are swiftly and brutally quelled by a superior military force, and that's when Kane, a mercenary, steps in to help.
Kane really is the star of the show here, as anyone familiar with the series will tell you, but for anyone not in the know, Kane is a prince cursed with immortality who has wandered the world for eternity, plumbing its secrets, learning grim and interdicted sorceries, seeking out mysteries and conflicts and battle and war, and just generally trying to entertain himself during the course of his unending life.
---