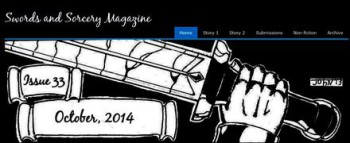 The last few weeks have been particularly busy for me in my real life (as opposed to the one I lead as a dashing blogger-about-town on all things old school Swords & Sorcery) so this won't be as complete a roundup as I'd like it to be. Fantasy Scroll #3 will have to wait until next month. As for Beneath Ceaseless Skies, I failed to read either issue last month, but looking at October's authors, I see World Fantasy Award-winning (for the splendid "The Telling") Gregory Norman Bossert, along with some other talented writers, so let's just assume you should go check them out for yourself.
What I did manage to read were magazines I never miss – Swords and Sorcery Magazine (#33) and Heroic Fantasy Quarterly (#22). I've been following the former since the third issue, so I never want to miss out on what happens next. As for HFQ, it's consistently the best — and my favorite — magazine for heroic fantasy, which means as soon as it hits the electronic superhighway, I try to check it out.
Swords and Sorcery Magazine #33 presents us with its usual quota of two new stories. In ages past, Jonathan Nathaniel De Este, commander of Queen Isabella's Dark Army and protagonist of Alex B.'s "Black Water", "drank the Black Water and took the Darkness upon his spirit." Every other man who did that found himself transformed into a bestial man or a complete beast. Only Jonathan has managed to hold onto a portion of his humanity and prevent himself from being changed externally as well as internally.
It's an interesting story filled with grisly bits. There's real potential for some exploration of Jonathan's past and motives, but it's not supplied. The mystery over his relationship to a picture of a princess is left only vaguely answered at best.
---