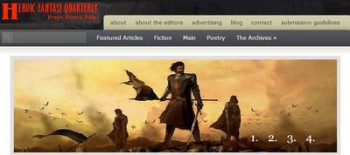 The Autumn or November issue, or simply Heroic Fantasy Quarterly #18, finally showed up, so let me start this month's roundup by digging right into Mssrs. Simmons', Farney's, and Ledbetter's magazine.
Of the various fantasy magazines I read, HFQ is my favorite. Not only is it dedicated entirely to the subject matter of its title, its contents are consistently of the best quality. That means they find the stories that don't settle for the usual and too-often-repeated S&S fixtures and are capable of stirring up the genre's thick and tired blood.
In its pages I've read about chess with King Oberon, a desperate flight from a ghostly lion, and vast necromantic battles. I've found writers like Seamus Bayne and Michael R. Fletcher, who make me stop what I'm doing and read their stories. They also get great artists to create terrific banner art for them. This month's image, "Song of Battlefield", is by Norimichi Tanka.
One of the strongest appeals of S&S is its ability to sweep us out of our lives into more heroic places: somewhere life isn't divided into hours spent in gray cubicles or cars stuck in traffic. The reality of such worlds would be much more grim and the rewards fleeting.
---