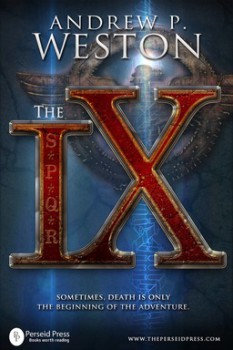 Are you old enough to remember the Kirk Douglas Saturday Night Live sketch from 1980 that asked the important question: "What if Spartacus had a Piper Cub?" Well I am, and it was the first thing that popped into my head when I received a review copy of Andrew P. Weston's new novel, The IX, from the fine people at Perseid Press. I don't read or review much sci-fi, but they suspected, quite correctly it turns out, that this would be right up my alley.
No, modern aviation doesn't save the famous Roman IX Legion from destruction. Instead, the IX — and a host of other soldiers from across the ages — get a chance to play with advanced weapons to stave off a massed army of energy-devouring monsters on a star far across the galaxy from Earth.
The Ardenese, a highly advanced race, rule dozens of worlds, crossing the stars in ships that rip holes in space…until they encounter an enemy they come to know only as the Horde.
First discovered on a colony world, the energy-devouring Horde manage to secrete themselves aboard Ardenese starships. One by one the colonies fall, until all that remains is the homeworld and the capital city, Rhomane.
Even protected by barriers and nearly impregnable walls, the Ardenese know they are doomed. In the end, and it is surely near, they will all die, subject to the hideous ravages of the Horde. To ensure the survival of their race, the handful of survivors turn their fates over to the Architect, a massive AI computer.
---