A (Black) Gat in the Hand: Cass Blue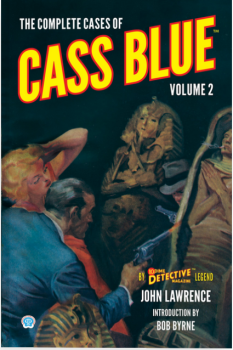 I've got another introduction out for Steeger Books. I got to jump in for Volume Two of John Lawrence's tough PI, Cass Blue. Here's that intro, to whet your appetite. If you like what you read, check out the two books. I hadn't read Blue before writing this intro, and I enjoyed discovering these stories.
Cass Blue presented an unusual combination to the readers of Dime Detective when he arrived in November of 1932 in "The Bloodstone." The settings of the first three stories were more akin to an Agatha Christie novel than to the pages of a hardboiled pulp magazine. The country manor; the island only reachable by boat; a houseful of suspects – and potential victims. But there were also those elements of the Weird Menace pulps. What's a country house without a seance? Need a masked assailant? – Check. Murder by mad bomber? Of course!
In addition to the Christie-esque setting and the Weird Menace tone, Blue himself is a tough guy that Roger Torrey or Frederick Nebel might have written. It's a different type of Pulp Stew than readers were used to in Dime Detective when Blue became a regular in 1934.
Story four – "Calling All Cars" – involved a big heist caper and a serial killer. It was different from the first three, but still not the usual private eye yarn. It had a pretty big scope. You can find those first four stories in Volume One, also from Steeger Books. It also includes an excellent intro by Ed Hulse, looking at the history of Dime Detective.
This second volume starts a little more traditionally with "Guilty Party" from the August 15, 1935 issue of Dime Detective. "Calling All Cars" had been in the prior issue, only two weeks before. Blue is walking home, pleased that his private detective business has lasted for eight years – with Blue still alive to enjoy it. A harmless-looking fellow is following him through a snowstorm, and Blue figures it's a stool pigeon looking to sell some info.