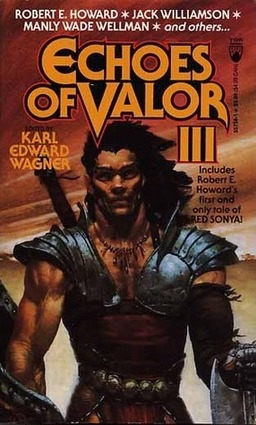 And so we come to the end of our all-too-brief series on Karl Edward Wagner's ambitious and highly regarded sword & sorcery anthologies. Echoes of Valor III was published in paperback by Tor Books in September 1991, just three years before poor Karl drank himself to death in 1994.
The three Echoes of Valor books are perplexing in some regards, especially for collectors. Wagner had taken a huge step towards literary respectability for Robert E. Howard in 1977, by compiling and editing the definitive three-volume hardcover collection of the unexpurgated Conan for Berkley: The People of the Black Circle, Red Nails, and The Hour of the Dragon. It's clear that he intended Echoes of Valor to accomplish the same feat for a wider rage of his favorite writers, by assembling the defining collection of their best heroic fantasy in hardcover — and with non-fiction commentary that treated them to genuine scholarship.
It didn't quite work out that way. The first volume of Echoes of Valor appeared only in paperback in 1987, and it had no non-fiction content at all. It was also burdened with a Ken Kelly cover that pretty obviously had originally been intended for Tor's Conan line — I wouldn't be surprised if most book shoppers in 1987 mistook it for just another Conan pastiche, and didn't give it another glance.
With the second volume, Echoes of Valor II, Wagner finally got the book he'd aspired to. It appeared in hardcover in 1989 with an original cover by Rick Berry, and no less than eight non-fiction pieces (autobiographical sketches, forwards, and author appreciations) from four distinguished writers: C.L. Moore, Forrest J. Ackerman, Sam Moskowitz and Wagner himself.
Echoes of Valor II was one of the first books to treat sword & sorcery as serious fiction, and the hardcover format meant that Tor was able to sell it into libraries and schools across the country. It was a groundbreaking book for the genre. So it was a bit puzzling when Echoes of Valor III appeared three years later — exclusively in paperback, and with only one brief essay from Sam Moskowitz.
---