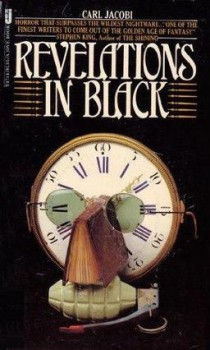 Carl Jacobi is a hard guy to collect.
Part of the problem is that he just didn't publish many books. Five collections of horror stories in his lifetime. No novels. All of the collections were released through small presses, including Arkham House and Fedogan & Bremer, and only one was reprinted in paperback. Pretty thin pickings, especially if you like paperbacks.
However, the ISFDB listing for Carl Jocobi includes over 120 short stories, three chapbooks, and a poem, among other publications. Guy was certainly prolific enough, even if only a fraction of his output ended up reprinted in more permanent editions. He wrote for most of the major pulps all through the 30s and 40s, including Startling Stories, Wonder Stories, Ghost Stories, Thrilling Wonder, Amazing, and especially Weird Tales.
He was widely respected, too. Stephen King called him "One of the finest writers to come out of the Golden Age of Fantasy," and his stories were reprinted in numerous SF and fantasy anthologies. They were also translated into French, Swedish, Danish, and Dutch.
On May 6th of this year, the marvelous Centipede Press released Masters of the Weird Tale: Carl Jacobi, the latest volume in their deluxe Masters of the Weird Tale series. Clocking in at 900 pages, with new and reprint art and lots of photos, it's the definitive collection of Jacobi's fiction. It's also $350 retail. Considering that I recently bought a vintage collection of some 1,000 SF and fantasy paperbacks in nearly new condition for about a third that price, let's just say that spending $350 on a single book is not a good option for me, and move on.
---