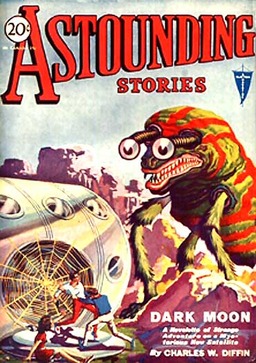 Pulps are my weakness. I discovered them when I was just 12 years old, in Jacques Sadoul's marvelous art book 2000 A.D. Illustrations From the Golden Age of Science Fiction Pulps (which I discussed back in May). That book sparked a lifetime interest in pulp magazines, where American science fiction was born.
Of course, I was too young to have purchased or read any pulp magazines myself in 1976. Pulps died out in the 1950s, killed off by wartime paper shortages and changing economics. So I've relied on the collector's market to supply me with magazines — an expensive proposition, especially if you're a completist.
Over the years, I've gotten more discriminating in my collecting. I dearly love Planet Stories, Weird Tales, Amazing Stories, Thrilling Wonder, Unknown, Air Wonder Stories, and many other pulps. But my favorite is Astounding Stories (later Astounding Science Fiction), the magazine which — under legendary editor John W. Campbell — ushered in the so-called Golden Age of Science Fiction, discovering Robert A. Heinlein, A.E. van Vogt, Isaac Asimov, Theodore Sturgeon, and many, many others. Campbell became editor with the October 1937 issue and he quickly transformed the entire field. 
Curiously, the most expensive and in-demand issues of Astounding aren't from Campbell's reign, however. They're from its first three years, 1930-1933, the period known as the Clayton Astounding, when it was owned by Clayton Magazines. That's their symbol, the little blue pennant, in the top right of the cover at left.
Very little fiction from the Clayton period is remembered today — and if you've never heard of the Clayton Astounding, you're not missing much. The magazine's early editors, like most of the American public, didn't really understand science fiction and mostly filled the magazine with thinly disguised westerns in space and early space operas. But the covers… ah. They're a very different story.
---