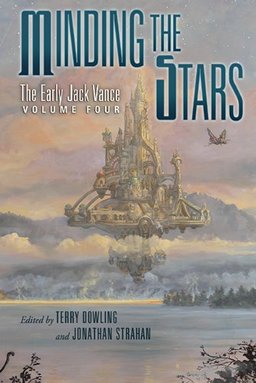 I've been heartily enjoying The Early Jack Vance volumes from Subterranean Press, which collect the hard-to-find early pulp SF and fantasy from one of the greatest writers of the genre, Jack Vance.
The first two, Hard Luck Diggings (2010) and Dream Castles (2012), are now sold out and out of print — and rapidly raising in price. They collected fiction from the very start of Vance's career, the late 40s through the late 60s.
Two more volumes are now in print, with one more due in March. Minding the Stars, the fourth volume, spans the years from 1952 to 1967, collecting four long novellas and four short stories, originally published in Astounding Science Fiction, Future Science Fiction, Fantastic Universe, Amazing Stories, and other fine publications. Here's the complete table of contents:
Introduction by Terry Dowling and Jonathan Strahan
"Nopalgarth" (Originally published as The Brains of Earth, Ace Double, 1966)
"Telek" (Astounding Science Fiction, January 1952)
"Four Hundred Blackbirds" (Future Science Fiction, July 1953)
"Alfred's Ark" (New Worlds SF, May 1965)
"Meet Miss Universe" (Fantastic Universe, March 1955)
"The World Between" (Future Science Fiction, May 1953)
"Milton Hack from Zodiac" (Amazing Stories, August 1967)
"Parapsyche" (Amazing Science Fiction Stories, August 1958)
The opening story, "Nopalgarth," was originally published as half of an Ace Double in 1966, under the title The Brains of Earth. Vance collectors may recognize it as one of three novellas published in a slender collection from DAW in September 1980, under the title Nopalgarth (see below).
---