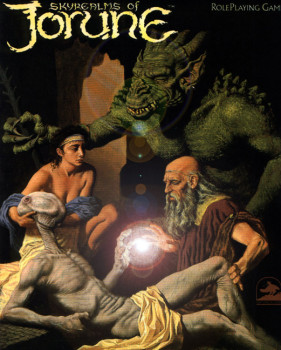 Dungeons & Dragons was the first roleplaying game I encountered – 35 years ago this month, as it turns out – and, except for a stretch during the 1990s, when I foolishly cast it aside, it's remained my favorite RPG ever since. Nevertheless, it was never my only roleplaying game. Indeed, once my friends and I had been bitten by the RPG bug, we soon tried our hands at pretty much any game we could find.
In those heady days, we played a lot of games, not merely because we had voracious appetites for all things roleplaying, but because there were so many RPGs from which to choose. From our perspective, it seemed as if there were new roleplaying games appearing on hobby store shelves every month, even if an examination of the timeline of RPG releases reveals otherwise. At any rate, there were certainly more games released than we could possibly afford to buy, let alone play. Consequently, after periods of experimentation, we tended to stick toa  handful of games that became our standbys. It was to these games that our hearts belonged and that we spent untold hours playing together.
That didn't stop my eye from wandering. Over the years, there were a number of games I picked up simply because they looked cool – so cool, in fact, that I didn't actually care whether or not I'd ever get the chance to play them with my friends. Nowadays, I tend to look askance at such behavior. I find something perverse in treating a game simply as reading material, which is why I've been slowly paring down my collection only to those games I actively play or am likely to play in the foreseeable future.
And yet, hypocrite that I am, I've made a few exceptions over the years. My shelves are home to a handful of games I've never actually played (nor am I likely to), but that I keep around because I find them inspiring nonetheless. In my defense, each of the three games I discuss below is one that I'm not at all convinced can be played as written, at least not easily (a claim that will no doubt result in a flurry of comments from indignant middle-aged men regaling me with tales of their decades-long campaigns using one or more of these RPGs).
---