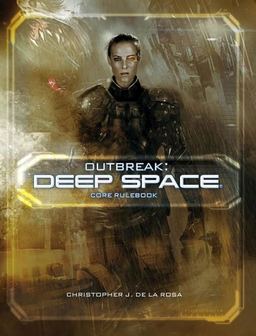 Being at the Games Plus Fall Auction can be an exhilarating experience. Take my discovery of Outbreak: Deep Space, just as an example.
There I am, sitting in the second row of the auction on October 4th, ninety minutes into the auction, wondering if I've blown my budget already. I've just made the decision to add up my purchases when the auctioneer holds up a brand new copy of Outbreak: Deep Space and starts the bidding at $5.
What the heck is that?, I think. And then, I have no idea, but it looks fantastic.
I immediately hold up my bidding card. Unfortunately, I'm not the only one to be intrigued by this strange gaming artifact. About a dozen bidders have their cards in the air, and the auctioneer quickly runs the price up to ten bucks. This is how you get in trouble, I remind myself. Bidding like mad on a book when you have absolutely no idea what it is. 
But my card stays in the air. The bidding hits 15 bucks, then blows past it. The cards around me are starting to waver and drop.
This thing could be on sale at Amazon for $10. Just because you've never seen a copy doesn't mean it's hard to find.
But I keep my card in the air. It's a sharp-looking and professional bound hardcover — my instincts tell me it's going to cost a lot more than 10 bucks to track down a copy if I miss out on this one. And besides… there's more going on now than just bargain hunting. It looks like a science fiction horror RPG, and a very professional one. I'm deeply curious and willing to pay more than $15 for the opportunity to find out what it is.
---