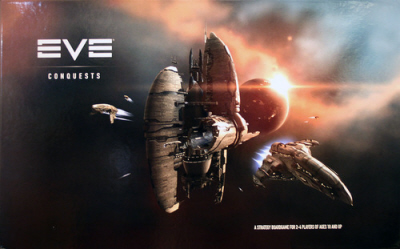 I have a real weakness for board games, and especially large-scale space strategy games. It's one thing to punch that Pop-O-Matic bubble and move your little green marker around a Trouble board; it's something else entirely to stealthily assemble an unstoppable fleet and launch them en masse towards the unsuspecting alien armada in orbit around Sirius. Ah, I get a thrill just thinking about it.
Sometimes a great space game will sneak up on me. It's not my fault – I can barely keep up with all the fantasy books that show up at Barnes & Noble every week. I've totally given up on keeping track of new sci-fi board games.
This one snuck up on me at the Games Plus Spring Auction back in March. I'm sitting there in the front row, minding my own business, when the auctioneer suddenly hefts this big heavy box unto his shoulder, says something like "EVE Conquests, a strategy game set in the world of EVE Online. Opening bid: one dollar," and starts the bidding.
So I blink a couple of times, and think, what the heck is this thing? I thought EVE Online was an online game? Oooooo, it looks cool, whatever it is. And heavy. Like it's packed with beautiful starship miniatures and mounted boards and strange artifacts of alien civilizations… I want it. I shall bid on it.
Well, not for long I won't. Twenty seconds after the bidding started, it moved well out of my price range and remained there for some time. Screw this, I thought. I can find a cheaper copy online. Famous last words.
---