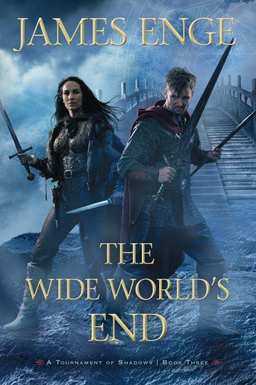 You have something wonderful to look forward to in February, and it's sort of the opposite of Valentine's Day.  The third volume of James Enge's Tournament of Shadows trilogy, The Wide World's End, is coming out, and it's every bit as strange and glorious as Enge's novels have all been so far, with an extra dimension of heartbreak.
Because it's a tragedy. Not the schoolroom mountain-diagram tragedy plot here, not the victim-blaming hubris explanation, but a fresher, more original kind of tragedy. (Fortunately, the tragedy is leavened by Enge's usual black humor, numerous inventively disturbing monsters, clever magical technologies, and crackling dialogue.)
What's tragic about Morlock is that the very things that make him so genuinely excellent, so uniquely able to save his world, are the very things that make it impossible for him to go home again. And that includes the great love between him and his wife.
The author and publisher have been completely forthright about that. The cover copy tells us even the happiest available ending on the cosmic scale will be a disaster on the personal scale.
---