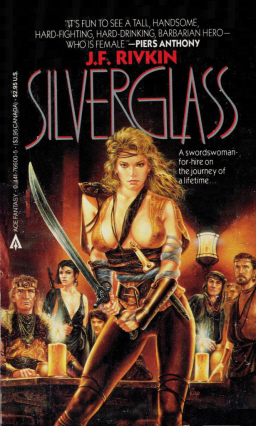 There's no shortage of fantasy fiction with strong women heroines these days — in fact, if you're standing in front of the urban fantasy section of your local bookstore, I wouldn't be surprised if you assume that that's all there is.
I do hear the occasional observation that this is entirely a modern development however, and obviously that's not true. Yeah, adventure fantasy was largely dominated by male writers in the 20th Century (and male editors, and male art directors, but that's a different topic.) But it wasn't just trailblazers like C.L. Moore. Anne McCaffrey and Joanna Russ creating popular female heroes. Even in midlist fantasy, there were popular sword-wielding women characters, many of whom are forgotten today.
Are they worth remembering? That's a different question.
I've always wanted to find out. Recently I've been curious about the Silverglass books by J.F. Rivkin, four novels published between 1986 and 1991: Silverglass, Web of Wind, Witch of Rhostshyl, and Mistress of Ambiguities. The first one crossed my desk again last night, part of a small paperback collection I recently acquired, and I dipped into it long enough to be intrigued.
Probably the reason I've remembered these books so long is the colorful wraparound covers by Royo. For Silverglass, he surrounded our heroine with an interesting cast of characters in what looks like an underground tavern — a setting that immediately spoke to me of adventure in 1986. The main selling point is summarized in the Piers Anthony blurb at the top:
It's fun to see a tall, handsome, hard-fighting, hard-drinking barbarian hero — who is female.
Here's the book blurb.
---