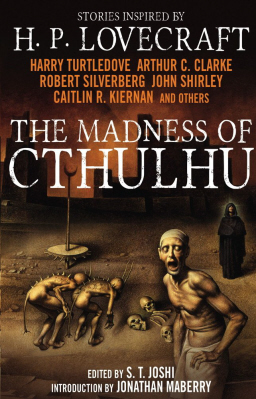 Jonathan Mayberry observes in his introduction to The Madness of Cthulhu that H.P. Lovecraft has inspired a subgenre that "already has thousands of stories and hundreds of novels in it, not to mention movies, TV shows, toys, video and board games, and even live-action role playing." Nowadays, it seems every other horror fiction outing can at least in part be described as "Lovecraftian," an amorphous adjective that has come to mean so many things that one wonders if it retains any meaning at all. This, as Mayberry points out, isn't necessarily a bad thing. Lovecraft didn't give us one world — he gave us "an infinity of worlds."
Lovecraft's At the Mountains of Madness serves as the inspiration for many of the authors in The Madness of Cthulhu. HPL's reputation among science fiction writers (as well as critics) has always been, as S.T. Joshi states in the anthology's second introduction, "ambivalent." At the Mountains of Madness itself is a fine example of both the first-rate and the rather questionable aspects of HPL's work.
On one hand, it's masterful in concept and at times in execution. A fusion of Antarctic adventure, science fiction, and early-modern horror, it not only offers chilling passages with an escalating sense of dread and isolation but also constructs a world horrifying in its implications about mankind.
On the other hand, it includes phrases such as "a myriad of grotesque penguins." The Antarctic landscape is compared, between two characters, four separate times to "the Asian paintings of Roerich." HPL is simultaneously brilliant and absurd, at turns deeply unsettling and unintentionally comical. Rather than sweep this ambiguity aside, The Madness of Cthulhu wisely embraces the spectrum of tone and content HPL can inspire.
---