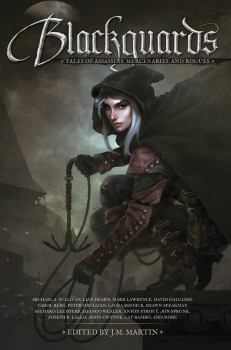 I'm pleased today to feature a guest post from writer Laura Resnick, all about an upcoming anthology, one that's already received a lot of funding from Kickstarter. Take it away, Laura:
Back before I ever started writing or had any intention of becoming a writer, I read an interview with an author who, when asked if her dark, challenging characters were also the sort of people she was drawn to in her real life, said of course not — who could actually live with someone like that? She said she preferred stable, even-tempered, good-natured people in her real life (as I do, too). But fiction is about conflict; it's about things breaking down, imploding, exploding, escalating, and reaching a crisis point — not about things humming along smoothly and contentedly (which tends to be what most of us want from real life most of the time).
We read fantasy novels about Good and Evil doing battle with each other, not about Good and Evil agreeing to sit down together and work out a reasonable compromise as calmly as possible.
Similarly, there is a longtime and widespread fascination in fiction with living outside the rules of society. Many people fantasize at various points about the satisfaction, excitement, or pleasure of simply doing whatever they want — stealing a boat, robbing a bank, killing their boss, seducing total strangers, breaking into the Vatican, etc. But few people are so committed to those fantasies that they want to risk losing their homes, their livelihoods, their families, their future, and their freedom in order to fulfill them. There's also the problem of conscience; most of us would feel cripplingly terrible about murdering someone or taking possessions we have no right to take.
---