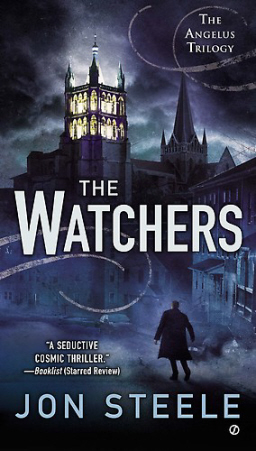 I encountered The Watchers for the first time during my last trip to Barnes & Noble. There I was with an arm full of paperbacks, making my way to the register, when I spotted it on a display in the middle of an aisle.
The cover looked intriguing, in a spooky, gas-lit London sort of way. But was it fantasy? I don't want to get stuck with another Da Vinci Code clone.
The Booklist quote on the cover called it "A seductive cosmic thriller." What the heck did that mean? Cosmic, like Elder Gods cosmic? Thanos versus The Avengers cosmic? Or 700-pages-that-feel-like-they'll-never end cosmic?
The back cover text wasn't much help:
Every hour, childlike Marc Rochat circles the Lausanne cathedral as the watchmen have done for centuries. Then one day a beautiful woman draws him out of the shadows — the angel his mother once promised him would come.

But Katherine Taylor is no angel. She's one of the toughest and most resourceful call girls in Lausanne. Until something unnatural seething beneath a new client's request sends her fleeing to the sanctuary of an unlikely protector.

Into their refuge comes Jay Harper. The private detective has awakened in Lausanne with no memory of how he got there — and only one thing driving him forward: a series of unsettling murders he feels compelled to solve.
That doesn't even tell me what era it is. Present day? 1880s? Were there private eyes in 1880s London? Look, is this a fantasy or not? All these books I'm holding are getting heavy.
---