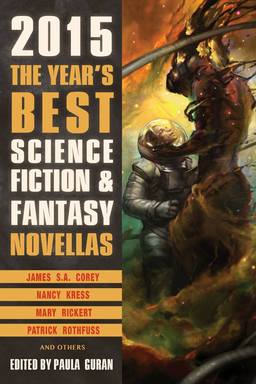 Just this morning, in my article on Peter Crowther's anthology Cities, I observed that the novella is the natural length for fantasy and science fiction. The novella has an exceptional history in this field, from H.G. Wells "Time Machine" to John W. Campbell's "Who Goes There?" to Clifford D. Simak's "The Big Front Yard" and Fritz Leiber's "Ill Met in Lankhmar." Unfortunately, there aren't a lot of places that publish them these days… and even fewer that reprint them. Only a handful of Year's Best volumes can afford to make space for novellas, which means that, if you miss their original appearance (frequently in small press outlets), you may never see some of the finest works published every year.
Paula Guran has set out to rectify that with a brand new anthology series: The Year's Best Science Fiction & Fantasy Novellas: 2015, from Prime Books. It's the companion volume to Rich Horton's popular The Year's Best Science Fiction & Fantasy from the same publisher, which publishes its seventh volume this year, and Paula's own Year's Best Dark Fantasy & Horror. Here's the description.
The Year's Best Science Fiction and Fantasy Novellas: 2015 inaugurates a new annual series of anthologies featuring some of the year's best novella-length science fiction and fantasy. Novellas, longer than short stories but shorter than novels, are a rich and rewarding literary form that can fully explore tomorrow's technology, the far reaches of the future, thought-provoking imaginings, fantastic worlds, and entertaining concepts with the impact of a short story and the detailed breadth of a novel. Gathering a wide variety of excellent SF and fantasy, this anthology of "short novels" showcases the talents of both established masters and new writers.
Here's the complete Table of Contents.
---