Vintage Treasures: Nightmares by Robert Bloch
Vintage Treasures: Nightmares by Robert Bloch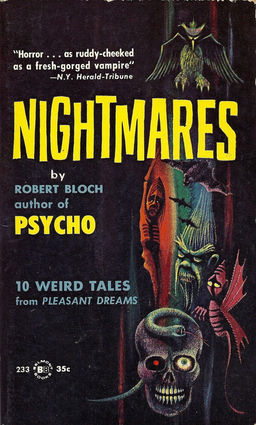 I've been on something of a Robert Bloch kick recently.
It started with the Vintage Treasures article on The Best of Robert Bloch I wrote back in July, the second in my series on Lester Del Rey's Classics of Science Fiction. That lead me to his Lovecraftian novel Strange Eons, first published in 1979, which I wrote about in October.
Strange Eons was fun, but honestly I think I prefer Bloch's short stories. And he certainly has a lot of them, gathered in dozens of collections starting with The Opener of the Way, published in 1945 by Arkham House when he was just 28 years old, and ending the year he died with his final collection The Early Fears (1994, Fedogan & Bremer) — which won the Bram Stoker Award for Superior Achievement in a Fiction Collection.
As usual, I tend to gravitate towards the paperbacks. Last week I bought a copy of Nightmares, a slender 1961 paperback from Belmont which contains 10 short stories originally published in Weird Tales, Fantastic, The Magazine of Fantasy and Science Fiction, and other fine publications.
Nightmare is a selection of tales from Pleasant Dreams — Nightmares (1960), an Arkham House hardcover which contained 16 short stories and novelettes (and cost, according to a note on the copyright page, an outrageous $4). The paperback is dedicated to August Derleth, Fritz Lieber (sic), and Star Trek writer Samuel A. Peeples, author of ""Where No Man Has Gone Before" (one of my favorite episodes, incidentally, although doubtless he's listed here for his horror work).
And yes, Fritz's Leiber's name was misspelled. Clearly the paperback editions were not edited as tightly as they could have been, or Fritz Leiber wasn't yet a big name. Probably both.
In any event, this is a promising collection of stories spanning about ten years, from 1949 to 1958. It includes the haunted house classic "The Hungry House," the Hells Angels story "Sweet Sixteen," and "Hungarian Rhapsody," in which Solly Vincent discovers that his buxom neighbor Helen enjoys reclining in the nude on her bed of gold coins. That's entirely too much temptation for a mobster, even a retired one like Solly…
It also includes "The Light-House," an unfinished story fragment by Edgar Allen Poe that was completed, quite successfully, by Bloch.
Here's the complete table of contents:
Introduction by Robert Bloch
"The Sorcerer's Apprentice" (Weird Tales, January 1949)
"I Kiss Your Shadow—" (The Magazine of Fantasy and Science Fiction, April 1956)
"Mr. Steinway" (Fantastic, April 1954)
"The Proper Spirit" (The Magazine of Fantasy and Science Fiction, March 1957, )
"Catnip" (Weird Tales, March 1948)
"Hungarian Rhapsody" (Fantastic, June 1958)
"The Light-House" by Edgar Allan Poe and Robert Bloch (Fantastic, January-February 1953)
"The Hungry House" (Imagination, April 1951)
"Sleeping Beauty" (Swank, Mar 1958 )
"Sweet Sixteen" (Fantastic, May 1958)
Nightmares had one sequel volume, More Nightmares, which contained another ten stories. It was released by Belmont in 1962.
Nightmares was published in 1961 by Belmont Books. It is 144 pages, priced at 35 cents.
See all of our recent Vintage Treasure articles here.