"High Fantasy Adventure at its Best": Tangent Online on "The Gentle Sleeper"
"High Fantasy Adventure at its Best": Tangent Online on "The Gentle Sleeper"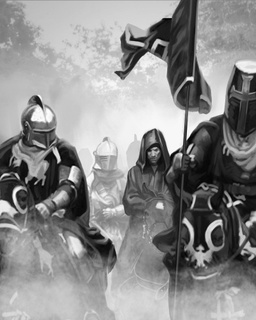 Over at Tangent Online, reviewer Chuck Rothman shares his opinion of David Evan Harris's adventure fantasy tale, "The Gentle Sleeper," published here October 14:
Arland is "The Gentle Sleeper," an assassin who has what seems to be a very weak power, but who wields it skillfully. He'd gone to the castle of the tyrant Baron Weller who has taken his lover Marraine in order to torture her to give up plans for an attack. Weller is a smart and very cruel villain and seems to remain several steps ahead of Arland. David Evan Harris has written a masterful adventure, which manages to work some science into the plot, something unusual in pure fantasy. This is high fantasy adventure at its best.
David Evan Harris is the author of the acclaimed stories "The Mudslinger" and "Seeker of Fortune," both published in Black Gate. Grasping For the Wind praised "The Mudslinger" as "An epic fantasy… I look forward to more" and Tangent Online called "Seeker of Fortune" "Exceptional. A must read."
The complete catalog of Black Gate Online Fiction, including stories by Janet Morris and Chris Morris, John C. Hocking, Michael Shea, Peadar Ó Guilín, Vaughn Heppner, Aaron Bradford Starr, Martha Wells, Nina Kiriki Hoffman, E.E. Knight, C.S.E. Cooney, Howard Andrew Jones, and many others, is here.
"The Gentle Sleeper" is a complete 5,000-word short story of adventure fantasy. Read the complete story here.