The Ins and Outs of DIY Touring
The Ins and Outs of DIY Touring
It's the evening of August 23rd and I'm having dinner with Patty Templeton and her friends after our reading at Quimby's in Chicago. All in all, a good reading; my story was about zombies, Patty's was about ghosts. The audience was into it. At dinner, I told Black Gate editor John O'Neill that Chicago was the penultimate stop on my self-organized "Hard Times Blues" tour. Then I told him the itinerary. His reaction could only be described as a combo of shock and admiration.
New York City. Pittsburgh, PA. Philadelphia. Worcester, MA. Brattleboro, VT. Boston. Ithaca, NY.  Montreal. Ottawa. Toronto. Lansing. Chicago. Cincinnati. Fourteen days, thirteen cities, seven states, two provinces. And I was touring by myself.
By that point, I'd seen a variety of reactions to my itinerary. Some folks questioned my sanity. Others got paternal. "You poor thing! When do you sleep?" Others would congratulate me while assuring me they'd never do such a thing.
Still others asked why I would undertake something so exhausting, to which I always refer back to Elfquest: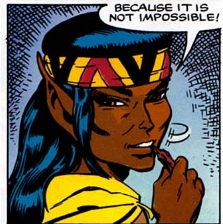 John invited me to write about how I organized such a tour. It wasn't as hard as you would think.
During college, I became familiar with the Pittsburgh punk scene, where underground artists organized their own tours all the time. Bands would play at the Mr. Roboto Project, Club Laga, or Howler's; half the time, the show was at somebody's house. Those who lived in the house would host the band, give them a spot to crash, sometimes show them around town. There was a very communal nature to Pittsburgh punk. Also, there was a strong DIY ethic. I once watched somebody, over a month, single-handedly construct a cabin on Beelen Street. That's how DIY it was.
I couldn't play an instrument, but I wrote stories and embraced DIY as far as my writing went. I write fantasy. Fairies, ghosts, gods, even the occasional dragon (okay, quite a few dragons). Performance has always been integral to me. A story never feels complete until I have told it to an audience.
It turned out that there weren't many reading series open to fantasy. So I made my own. I lived at a writers' cooperative, called the Cyberpunk Apocalypse, and held readings in the house. I read with zinesters, poets, and musicians. I came to think of fantasy as something that coexists with other genres and artforms. Coming up in that atmosphere, booking a tour seemed not only desirable, but doable.
My first book, The Jack Daniels Sessions EP, came out in May 2010. On the week of its release, I went on tour with science fiction writer/graphic artist Dan McCloskey. We titled our tour The Elvenslaughter, a name that came to me because it sounded both geeky and metal.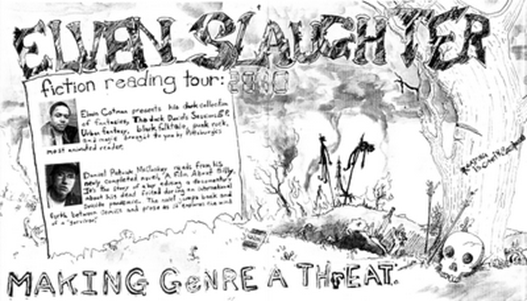 Fast forward three years. The Hard Times Blues Tour 2013 is the fifth tour I've organized. Over the years, I've traveled the Midwest, West Coast, and the South. I've shared the adventure with comic artists and poets. I've read at almost every type of venue imaginable (though not in the middle of Times Square, as that particular reading got rained out). It has given me the opportunity to connect with authors I admire. One tour, Cat Rambo was kind enough to lend me her mom's futon. And I've had the opportunity to share my writing.
On the occasion of my new story collection, Hard Times Blues, I wanted to do something ambitious. A marathon tour was always of interest. Cover as much ground as possible. See as many new places as possible. Read for as many different audiences as I could fit in.
(BTW, my book is not actually about the blues. However, I admire the ethics of blues music: speaking your truth, whether or not it causes discomfort. That and I just really like this Dusty Rhodes promo.)
The marathon schedule set up a problem as far as finding tour partners. It's grueling, and many of the small press/DIY writers I knew were busy during mid-August. Finding a suitable tourmate is its own process that I didn't have time for. If you're going to spend even one week on the road with someone, it's important that you be copacetic. I started organizing the tour in May and, as I was adamant on touring in August, I chose to go it alone this time. That's a heavy burden for a self-financed author. Thanks to a Kickstarter I ran a few years ago, I had a financial cushion and was ready to go trekking with my necromancers and retail zombies.
A benefit to flying solo was that I got to follow my own strange schedule and all the decisions were up to me. A concern: what if I spend all the time talking to myself? And discover I'm a bad conversationalist?
In all seriousness, there's plenty of potential for calamity when traveling by yourself, for any reason. That's where the network comes in.
I contacted friends in different towns to see if they'd help me organize a reading or knew of good venues to contact. A few of them I asked to read with me, since they were writers I admired. That's what a lot of DIY touring comes down to: doing shows with your friends. They were the ones who gave me somewhere to crash in cities like Boston, Syracuse, Chicago, and Cincinnati.
Other cities were more of a gambit. I'd decided that Canada was a must. It was a break from my comfort zone. I don't know a lot of people in Ottawa and I don't know anybody in Montreal, but I booked those readings anyway. I cold-wrote Kelly Pflug-Back, a poet whose work I love, and ended up having a great event with her and Leah Bobet in Toronto. It was nice to catch up with writers I'd met at the World Fantasy Convention the year before.
Starting in May, it took almost all summer to book the thirteen dates. Emailing. Calling. More emailing. The first date I booked was in my hometown of Pittsburgh, organized by Six Gallery Press. The last one I booked was in Michigan, after figuring that a reading might break the monotony of the 9-hour drive between Toronto and Chicago. One of the people I contacted sent me a spreadsheet of DIY venues in Michigan; at least fifty spaces, organized by city. I ended up doing a house show in Lansing. The hardest nut to crack, booking-wise, was New York City. I tried for three months without success, before Molasses Books got back to me four weeks before tour started. Booking gigs by myself made things take longer, but I pretty much got the schedule I wanted.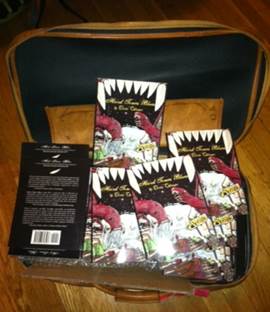 Another concern was the vehicle. One day, I would love to tour by trekking across the plains like Conan and Subotai in Conan the Barbarian, but that wasn't in the cards this time. Every car I've driven on tour has been a rental, save for my first tour, when I borrowed my dad's station wagon. I ended up renting a blue Fiat in which to ramble around North America. (During the two weeks, I learned how many people you can fit in a Fiat. Six, including the trunk.)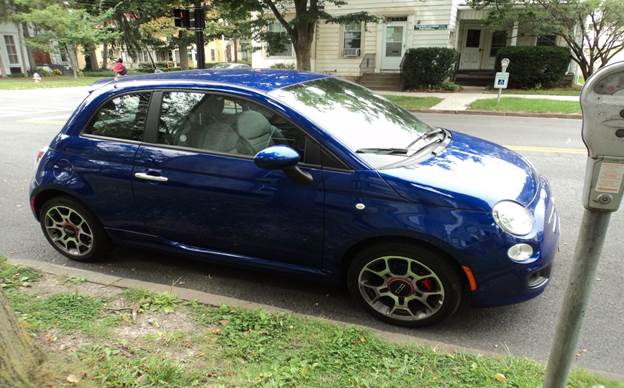 I needed a tour poster. This was provided by my good friend, Asa Jones, an artist based out of New Orleans. I told him I wanted something that combined the idea of fantasy with touring, and he delivered.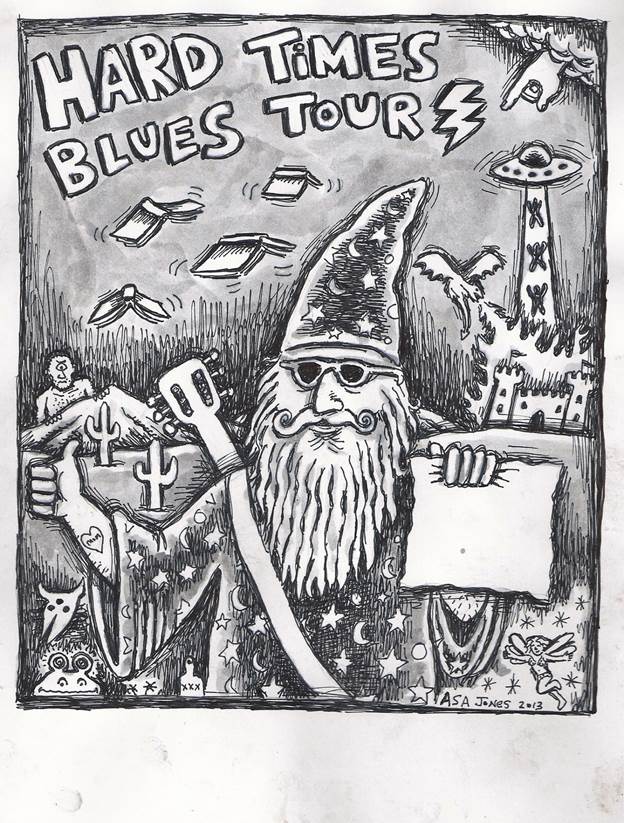 That's the essence of DIY touring, for me. Using it as an opportunity for collaboration with other artists, and to strengthen community ties. One downfall was trying to take on too much during such a short period of time. I started the tour in August. The book came out in July. That meant having to mail fliers while simultaneously handling a Goodreads giveaway and bottomlining my book launch in California. Exhausting, but also exhilarating.
Tour is a strange space to be in. When you're in Boston one day and Montreal the next, there's bound to be a spatial disconnect. Over a few days, I saw friends I'd made over the last fifteen years, all swirling past me in a whirlwind of faces. There wasn't enough time to spend with them before I was off to the next place.
With every tour, there's an ennui that comes about a week in. The exhaustion hit me around Ithaca. The 5-hour nighttime drive from Ottawa to Toronto was particularly brutal and the ride home to Pittsburgh was a slog. (Google Maps lies. Always add an hour.) I'd worked out a budget, which occasionally went out the window, because how often do I get to go to New York or Toronto? There was the inevitable Fiat search on the border, but I got through, yay!, aaaand… now everything's in French. Then, of course, I had to jump back into everyday life following the alien world of tour. After clocking thousands of miles, I rested two days and caught a plane back to my professor gig in Louisiana, and my office.
Things I could have done differently? Booked more readings with other authors. Done more DIY spaces. I could have booked the dates closer to minimize all that driving. And I should have brought more music besides one Blind Guardian and Nina Simone CD. It turns out there is a limit to the number of times you can listen to "Battlefield." Overall, while being my most physically draining tour, Hard Times Blues was in some ways the smoothest. No sleeping at rest stops. No keys breaking off in the car door. No torrential rain.
As far as venues, it was my most diverse tour. I read with a theatre troupe at a collective house in Worcester. I read with violin accompaniment at a music space in Boston. Read around a bonfire in Brattleboro. And everywhere, the natural beauty of the continent.
The idea of a DIY tour is not new. The idea of a fantasy tour is not new. A hundred years ago, to capitalize on the success of the Wizard of Oz musical, L. Frank Baum did the Fairylogue and Radio-plays. It was a mix of magic lantern, silent film, live acting, and the author himself reading his books. It was very ambitious, and he lost a ton of money, and I would read about it thinking, "Yes! Magic lantern! That's what I need!"
Tour is an old school method of getting your work out. And by old school, I mean 14th century. Bards went from town to town reciting stories of myth, precursors to the literary genre we now call "fantasy." That's the tradition that touring artists are working in. Before that were the shamans who worked performance into their rituals. While unfairly considered the frivolous pastime of starving artists and pampered celebrities, performance was, and is, sacred to our species.
And the best, best thing, is that every reading is different. Sometimes they have the energy of a punk show. Sometimes it's like a trance. Sometimes it's the Fairylogue ("We need more music! And costumes!"). And sometimes I feel like a bard, in tune with the audience.
In other words, I recommend touring for small press writers. Is it a guaranteed money maker? No. But it's possible to put together a few dates, selling your work along the way. Get in touch with friends. The more hosts who are invested in your art, the easier organizing will go. Be discerning about where you read, as some venues do better promotion than others. But also be open to trying different spaces. Share the stage with writers of various styles. Coffee is overrated. Drink ice water. Candy helps too. You also have to love travel. Travel factors pretty strongly in my writing, as the idea of the quest is one thing that drew me to the genre.  Here, the quest was completing the marathon. Absolutely anybody can put together a tour. Or five.