New Treasures: Philippa Ballantine's The Order of Deacons
New Treasures: Philippa Ballantine's The Order of Deacons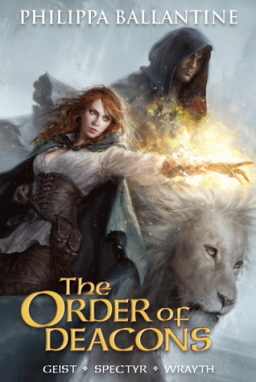 I can't be the only one who really enjoys these low-cost omnibus editions produced by the Science Fiction Book Club.
Omnibus editions have been a tradition for the SFBC for as long as I've been a member (don't ask how long that is). One of the first books I purchased from them — and still one of my favorite SF books, period — was H. Beam Piper's The Fuzzy Papers in the mid -1970s, containing Little Fuzzy and Fuzzy Sapiens. The most recent was probably E.E. Knight's Enter the Wolf, containing the first three novels of his terrific Vampire Earth saga: Way of the Wolf, Choice of the Cat, and Tale of the Thunderbolt.
At the same time as I purchased Enter the Wolf, I also acquired The Order of the Deacons, which collects the first three volumes of Philippa Ballantine's A Book of the Order series. I've been intrigued by these books for a long time, and was impressed by the snippets I read from Geist, the opening book. Here's the description for Geist:
Between the living and the dead is the Order of the Deacons, protectors of the Empire, guardians against possession, sentinels enlisted to ward off the malevolent haunting of the geists…

Among the most powerful of the Order is Sorcha, now thrust into partnership with the novice Deacon, Merrick Chambers. They have been dispatched to the isolated village of Ulrich to aide the Priory with a surge of violent geist activity. With them is Raed Rossin, Pretender to the throne that Sorcha is sworn to protect, and bearer of a terrible curse.

But what greets them in the strange settlement is something far more predatory and more horrifying than any mere haunting. And as she uncovers a tradition of twisted rituals passed down through the dark reaches of history, Sorcha will be forced to reconsider everything she thinks she knows.

And if she makes it out of Ulrich alive, what in Hell is she returning to?
The omnibus also includes Spectyr and the most recent volume, Wrayth. Philippa Ballantine is also the co-author, with Tee Morris, of the Ministry of Peculiar Occurrences novels (as "Pip Ballantine") and the Shifted World fantasy series, which began with Hunter and Fox. With luck, those will get a SFBC omnibus treatment too.
The Order of Deacons was published by SFBC in January 2013. It is 787 pages in hardcover, priced at $17.99. There is no digital edition. It is available exclusively to Science Fiction Book Club members; learn more at the SFBC website. Cover art by Karla Ortiz.