Barnes & Noble Book Clubs Best Fantasy Releases of 2012: Jones, Fultz, Cole, Lawrence
Barnes & Noble Book Clubs Best Fantasy Releases of 2012: Jones, Fultz, Cole, Lawrence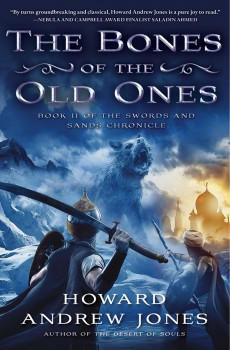 The editors and staff of Black Gate are very proud to note that the Barnes & Noble Book Club's annual list of The Best Fantasy Releases is thick with Black Gate authors, including Howard Andrew Jones, John R. Fultz, Myke Cole, and Mark Lawrence. Here's reviewer Paul Goat Allen:
2012 was a surprisingly strong year for fantasy… In fact, several debut novels made my year's best fantasy list: John R. Fultz's Seven Princes, Throne of the Crescent Moon by Saladin Ahmed, Myke Cole's Control Point, and Scourge of the Betrayer by Jeff Salyards.

Mark Lawrence's sequel to his debut novel Prince of Thorns was absolutely breathtaking; John R. Fultz's debut was flawless epic fantasy… The sheer diversity of fantasy releases this year was impressive. From the epic fantasy sagas of Fultz, Weeks, and Lawrence to the glorious sword-and-sorcery adventure of Howard Andrew Jones and Saladin Ahmed to the military-powered fantasy of Myke Cole and Joe Abercrombie, the releases of 2012 were as diverse as the realms in which they were set.
While we're pleased to see Mr's Jones, Fultz, Cole, and Lawrence get some well-deserved recognition, I can't say we're too surprised. Black Gate readers were treated to early work from all four authors — and we recently published generous excerpts from both Prince of Thorns and The Bones of the Old Ones.
And you can read an advance excerpt from the sure-fire candidate for next year's list, John R. Fultz's exciting Seven Kings, the sequel to Seven Princes, on sale January 15, 2013.
Howard Andrew Jones is the Managing Editor of Black Gate magazine; his Dabir & Asim stories, "Sight of Vengeance" and "Whispers from the Stone," appeared in Black Gate 10 and 12. John R. Fultz has published four stories in our pages; his epic sword & sorcery tale, "When the Glimmer Faire Came to the City of the Lonely Eye," will be published this Sunday as part of our Black Gate Online Fiction line.
Myke Cole's "Naktong Flow" appeared in Black Gate 13 and Mark Lawrence's "Bulletproof" will be published as part of our Black Gate Online Fiction line late this Winter.
Paul Goat Allen's complete list of The Best Fantasy Releases of 2012 is available here.