A 4-Star Review of Black Gate 15
A 4-Star Review of Black Gate 15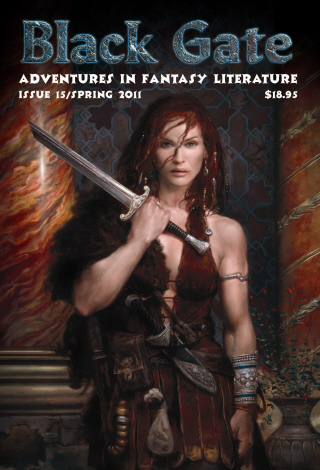 We got an early Christmas gift this year, courtesy of Goodreads, the social cataloging website dedicated to helping users find and comment on good books. With over 20 million readers each month, Goodreads is one of the most popular online destinations for dedicated readers.
All fifteen issues of Black Gate have been cataloged at Goodreads, and our latest issue has several outstanding reviews. This week, I came across a 4-star review from none other than publisher and editor Forrest Aguirre, author of Archangel Morpheus and Fossiloctopus, and co-editor of the prestigious Leviathan anthology series. Forrest writes:
My favorite piece of fiction in the volume was "The Shuttered Temple," by Jonathan L. Howard (author of Johannes Cabal the Necromancer, among others). Kyth the Taker, a brilliant and rather glib thief, is the heroine here. This was a very clever story whose strongest point is less the adventure than the philosophical underpinnings that drive Kyth and Tonsett, her foil. Witty, funny, and thought provoking, I found this the best of this excellent volume.

I have to admit, though, that a piece of non-fiction overshadowed all the fiction in the volume. "Art Evolution," by Scott Taylor, is an epic article that touched a soft spot in my heart and made me wax nostalgic for role-playing days of old. This was as thoroughly-researched an article on the subject of fantasy-art in role-playing as I've ever seen. Of course, I'm hard pressed to think of other articles that have even endeavored such an undertaking. From Jeff Dee to Matthew D. Wilson, Taylor traces the history of art in role-playing. It's an incredible journey that is worth the price of the issue alone.
Copies are still available for only $18.95 each (or as part of a heavily discounted back issue bundle) at our online store. Also available in PDF for $8.95, and for the Kindle — with enhanced content and color art and images — at Amazon.com for just $9.95!
You can read the complete review at Goodreads here. The complete BG 15 table of contents is here.