The Historical Urban Fantasy of Thieftaker
The Historical Urban Fantasy of Thieftaker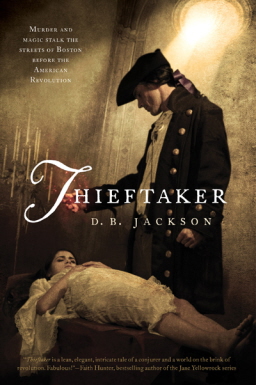 Thieftaker, the first volume in my new series, The Thieftaker Chronicles, is due out from Tor on July 3, just in time for the July 4th holiday. Why is that relevant? Well, Thieftaker is what I call historical urban fantasy. It is set in Colonial Boston in the 1760s, just as the unrest that will eventually lead to the American Revolution is starting to disrupt life in the city. My lead character, Ethan Kaille, is a thieftaker, a sort of 18th century private investigator who, for a fee, retrieves stolen items and returns them to their rightful owner. He is also a conjurer and an ex-convict with a dark past — he is, in my opinion, the most interesting and complex character I've ever written.
The novel begins on the night of the Stamp Act riots. While a mob is rampaging through the city streets, a young woman, the daughter of a wealthy merchant, is found murdered. Some want to blame the mob for her death, but naturally our hero has other ideas, and soon he's drawn into a web of intrigue that puts him at odds with representatives of the Crown, with leaders of the revolutionary movement, including Samuel Adams, with a rival thieftaker — the beautiful and deadly Sephira Pryce — and with a mysterious conjurer who is far more powerful than anyone Ethan has encountered before. I won't say more than that, because I don't want to spoil any surprises. But basically the book combines fantasy, mystery, and historical fiction in a way that I think turned out pretty well.
This book, my thirteenth (I've written a dozen novels, most of them epic fantasy, as David B. Coe; and by the way, pay no attention to the omen of this being my 13th published book — nothing to see here…) has long meant more to me than any of my others, and, to be perfectly honest, I've been trying to figure out why. Part of it might be the very fact of the pseudonym. I'm trying something new here — writing historical urban fantasy instead of the epic, alternate world stuff that I've done in the past. I'm enjoying myself, and I want to keep writing this series. If the first book does well, I can.
Part of it is certainly my investment in my lead characters. As I mentioned earlier, my protagonist is one of my favorite characters ever. He's dark, complex, but he's also someone I simply like. I relate to him, though he's really nothing like me. I want to spend more time in his head. And I like his nemesis, the rival thieftaker Sephira Pryce, even more. She is beautiful, ruthless, canny, and charming. Her rivalry with Ethan is the driving force behind much that happens in Thieftaker, and in its sequel, Thieves' Quarry (Tor Books, 2013). They are continually circling each other, looking for an advantage, bound as much by their mutual fascination as by their enmity.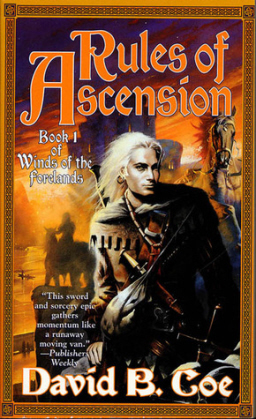 In the end, though, I believe that my passion for this book lies in the fact that it brings together the two passions that have guided my professional life: fantasy and history. Before becoming a fantasy writer, I earned a Ph.D. in U.S. history. For a while there I fully expected that I would devote my life to studying and writing historical scholarship.
Eventually I realized that the academic life was not for me, and after completing my doctorate, I turned pretty decisively toward writing fiction. In fact, for a long time I kind of neglected the love of history that first compelled me to get my degree. It took me some time, I think, to figure out that while I considered myself a refugee from academia and had made a conscious choice not to be a professional historian, that didn't mean that I couldn't also indulge my fascination for history.
With Thieftaker, I have come full circle. I've found a way to use my knowledge and enjoyment of history in the career I chose to pursue. It's incredibly rewarding, and it makes this a very special project.
In the end, writing is most rewarding and most enjoyable when I'm working on stuff that I truly love. This is a hard way to make a living and the market is too fickle and too difficult to anticipate for "writing to the market" to make much sense. I decided long ago that I would write what I wanted to write and if the market turned my way, all the better. Well, that wasn't always the savviest choice, but in this case I think it has worked.
I love Thieftaker, its sequel, and the various short stories that I've written in the Thieftaker "universe." But more, it seems as though the market is ready for this combination of historical fiction, fantasy, and mystery. We'll have to wait and see, of course; but in the meantime, with this book I'm having more fun than I ever have. And in the end, that's its own reward.
---
D.B. Jackson is also David B. Coe, the award-winning author of a dozen fantasy novels. His first book as D.B. Jackson, Thieftaker, volume I of The Thieftaker Chronicles, will be released by Tor Books on July 3. D.B. lives on the Cumberland Plateau with his wife and two teenaged daughters. They're all smarter and prettier than he is, but they keep him around because he makes a mean vegetarian fajita. When he's not writing, he likes to hike, play guitar, and stalk the perfect image with his camera. His website is here and his blog is here.