New Treasures: Necropolis by Michael Dempsey
New Treasures: Necropolis by Michael Dempsey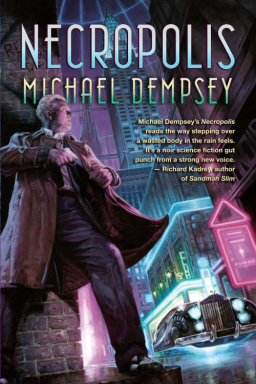 Back in April I told you about this sale at Night Shade Books (now expired). I took advantage of it myself, and ordered roughly a dozen titles.
I finally found time to put them away this week. They look terrific, and I hope to tell you about some of them over the next few weeks.
Let's start with Michael Dempsey's Necropolis, a delicious-looking cross of science fantasy and pulp detective novel:
Paul Donner is a NYPD detective struggling with a drinking problem and a marriage on the rocks. Then he and his wife get dead — shot to death in a "random" crime. Fifty years later, Donner is back — revived courtesy of the Shift, a process whereby inanimate DNA is re-activated.

This new "reborn" underclass is not only alive again, they're growing younger, destined for a second childhood. The freakish side-effect of a retroviral attack on New York, the Shift has turned the world upside down. Beneath the protective geodesic Blister, clocks run backwards, technology is hidden behind a noir facade, and you can see Elvis and Radio City Music Hall ever night. In this unfamiliar retro-futurist world of flying Studebakers and plasma tommy guns, Donner must search for those responsible for the destruction of his life. His quest for retribution, aided by Maggie, his holographic Girl Friday, leads him to the heart of the mystery surrounding the Shift's origin and up against those who would use it to control a terrified nation.
Night Shade is discovering and promoting a lot of new talent, and Necropolis is a fine example. It's Dempsey's first novel, although he wrote for network TV in the mid-90s.
Necropolis is 361 pages in trade paperback, with a $14.99 cover price. It was released in October 2011. The cover art is by E.M. Gist. You can order it directly from Night Shade here.
See the complete list of New Treasures features here.