Locus Reviews Black Gate 14
Locus Reviews Black Gate 14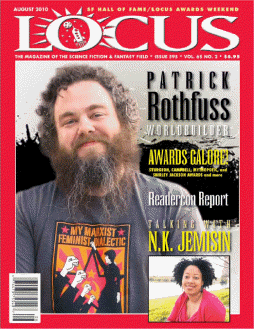 The August issue of Locus, the Magazine of the Science Fiction & Fantasy Field, contains a review of our latest issue by Contributing Editor Rich Horton.
Black Gate's Winter issue is positively huge… and it delivers excellent value. There are three novellas, all entertaining. My favorite was Robert J. Howe's "The Natural History of Calamity," which is basically urban fantasy, but with quite a clever central idea. Debbie Colavito is a private detective with a difference: she detects what's wrong with someone's "karmic flow" and restores the balance. In this story she takes a case for a nice young man whose equally nice girlfriend has just dumped him. Was it something he did wrong, some bad karma? Or is it something to do with her new boyfriend, a nasty piece of work who, by coincidence, has some history with Debbie? The central idea is pretty intriguing and could, I think, support a series. Nicely done, with some well-handled twists.
Rich also enjoyed "Devil on the Wind" and "The Word of Azrael":
"Devil on the Wind," by Michael Jasper & Jay Lake concerns a group of magicians whose power arises from their own suicides (and revivals). One such witch is sent to a nearby Prince to enforce the rule of these magicians. But she learns that her allies have plans that don't include her… Even better is Matthew [David] Surridge's "The Word of Azrael." It concerns Isrohim Vey, who sees the Angel of Death on a battlefield and as a result is spared — more a curse than a blessing — to search again for the Angel. His search almost takes the form of a catalog of sword & sorcery tropes, his many adventures told briefly but with style and an ironic edge. Surridge both celebrates and winks at the genre. It's very entertaining, clever, and even thought-provoking.
The online counterpart to Locus magazine is the excellent Locus Online, edited by Mark R. Kelly.