A Stoner Fantasy Review: Your Highness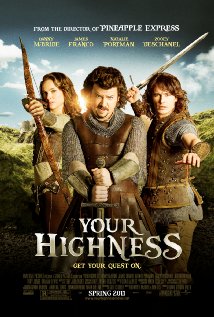 Sometimes a film comes along which redefines a genre. It brings a new, vibrant life to traditional storytelling structures. It makes you look forward to the new tales that will be inspired by it.
Your Highness is not one of those films.
No, this film is a straight-up satire. It's from the director of Pineapple Express which was the Seth Rogen and James Franco film that tried to carve out a difficult niche. It was a stoner action film.
Your Highness, on the other hand, is a stoner fantasy film.
And, even on that premise, I don't think it worked. The problem is that the various stoner film traits – drug use, vulgar language, blatant sexual comments – were applied so thickly that they proved distracting. At each and every turn, it served only one purpose: to completely pull you out of the story and draw attention to the fact that you were watching a film.