Edgar Allan Poe Wrote Fake News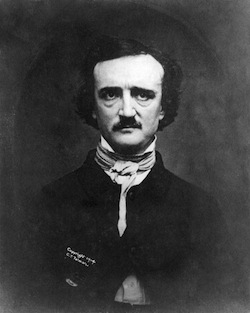 We're living in the age of fake news. The Internet abounds with sites reporting child abuse rings hidden under pizzerias, skeletons of giants excavated in Israel, and cures for AIDS being suppressed by Big Pharma.
Just recently I got taken in for a minute by the reported death of Desmond Tutu shared by a Facebook friend. That story was on a plausible-looking African newspaper site. Only after I looked around the site did I realize it was the only story on it and the newspaper didn't exist. Roll eyes. Run virus scanner.
But fake news isn't new. In previous generations even the mainstream press regularly used it to boost sales, running outlandish stories to sell papers. Perhaps the most famous is the story in an 1890 issue of the Tombstone Epitaph about cowboys shooting down a pterodactyl, which led to the theory that it was the legendary Thunderbird and the creation of several faked photos. Other writers have created various fake stories to boost sales for their own newspapers.
One of these writers was no less a literary figure than Edgar Allan Poe.