LonCon 3 Report: Attending the 72nd World Science Fiction Convention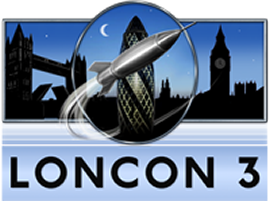 Last weekend in London was LonCon 3, this year's Worldcon. The convention, which has been held in various cities around the world since 1939, is where the Hugo Awards are given out and where fans from all over the globe meet up.
It was my first Worldcon, and while I've been to large conventions before such as World Fantasy and Eastercon, not to mention several local conventions such as Tuscon, I still wasn't quite sure what to expect. What I got was five fun days of events, conversation, and camaraderie.
The Loncon staff did a fine job making everything run smoothly. A handy pocket guide steered me around the huge convention center without a hitch, and twice-daily newssheets kept me up-to-date on any changes.
There were only a couple of small minuses. First off, the dining options at the ExCel Centre were overpriced and generally substandard. Not that this is unusual for a convention center, so I don't blame LonCon for this!
Also, the ExCel is huge and has all the ambiance of a shopping mall. But as Robert Silverberg pointed out, "Cons aren't about venues, they're about people."