The Weird of Cornell Woolrich: "Dark Melody of Madness"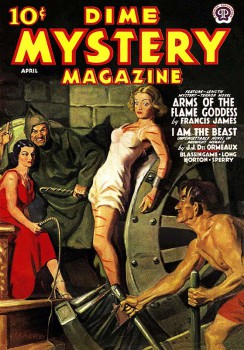 Continuing from last week's look at the weird tales of pulp suspense maestro Cornell Woolrich, today I'll walk around another bleak urban corner of the midnight-hued world of my favorite pulp author.
"Dark Melody of Madness," first published in the June 1935 issue of Dime Mystery and often reprinted under the less-chilling title of "Papa Benjamin," is one the superb pulp horror stories, and one of Woolrich's earliest classics, written during the first year of his career as professional magazine writer. In its use of race as an undercurrent, it has connections to some of the great horror works of Robert E. Howard, in particular "Pigeons from Hell," which also uses the device of voodoo of the West Indies. Anyone interested in the American Weird should read it. Fortunately, it's been reprinted in many anthologies.