Worldbuilding a "Star Punk" Future #2: Post-Certainty Society in Elizabeth Moon's Vatta's Peace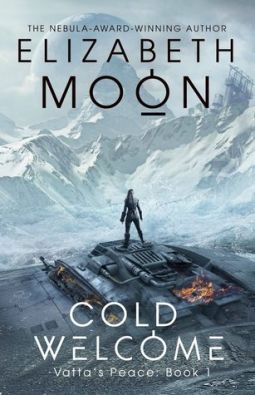 Go on a Traveller RPG forum and ask for book recommendations, and somebody will suggest Elizabeth Moon's Vatta's War series — a series that has just spawned a rather good sequel, Vatta's Peace.
The Vatta books are, of course, a really good read. They're gritty and realistic — it helps that Moon's ex-military. They're also fast-paced and well-written, they have vivid characters you enjoy hanging out with, and a strong female protagonist (or two). The same can be said of her other big SF series, affectionately known among my friends as "Scary Horse Aunts In Space" (*) but it's the Vatta books that come up because they feel a lot like Traveller, meaning they fit my definition of Star Punk:
Set in [a] spacefaring civilization… where… technology has somehow failed to eliminate the human element, where you still need a human to pull the trigger or pilot the scout ship, and where nanotechnology, 3D-printing and vertical farms have neither eliminated trade, nor ushered in a crime-free post scarcity society. They all involve individuals or companions — adventurers, traders, investigators, contractors — pursuing goals of only local significance. (*)
Except for not being an ensemble piece, the series really could be a superior Traveller campaign! It even kicks off with Ky operating as a free trader having left Naval Academy due to a scandal — did somebody fail her survival roll during character generation? It expands to encompass family corporations, commercial espionage, romance, family drama, conspiracy, politics, atrocity, piracy and ultimately set-piece space battles.
However, it rarely loses sight of the business of space travel. Our intrepid hero must deal with crew, repairs, finance, quirky local custom, in addition to the issues around using a civilian ship in armed conflict against pirates and other enemies… this is like a story from the 1970s, but with a tighter plot, modern diversity and values, and much better writing.
The setting — the worldbuilding — is also very Traveller-like in that the technology is limited in such a manner as to create a near-future-but in spaaace feel. Moon achieves this mostly by deploying the third of the options identified in the my last article: she turns the technology against itself.