Pathfinder's Ultimate Campaign Boosts Gaming Options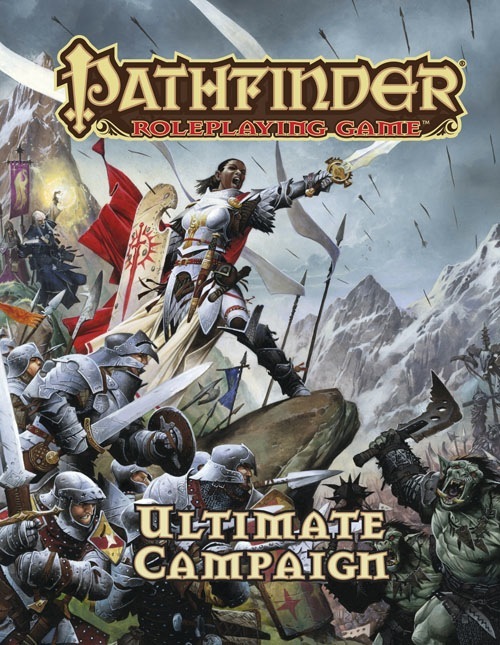 I'm a big fan of rule systems. Throughout my experience in role playing, both as a player and a gamemaster, I've loved building interesting characters, worlds, and storylines on my own, rarely relying on established modules and setting manuals. But to me the rules are a guide for the game and I try to follow them fairly closely, using them to inspire new ideas on where to go. In a way, it's the limitations of rule systems that provide the boundaries for the story to evolve off of.
For years running MUSHes, I grew frustrated with characters who would assume knowledge that had no basis in the statistics their characters had. Most of this time was spent on games based on White Wolf's Storyteller system, in which I mainly focused on Mage: The Ascension, so had to deal with a disturbing number of Mages who assumed that, just by virtue of being a Mage, they knew all about the other supernatural races, like details about the various Vampire: The Masquerade clans. Not without the right Lore rating, buddy!
These days, I've returned to fantasy adventure gaming, running a Pathfinder campaign. Still, though, I like using the rules and statistics as my guide. If a character doesn't have any ranks in Swim, then I roleplay him as if he's never learned how to swim … and maybe he's just a little scared of the water because of it. No ranks in Knowledge(nature), then he doesn't know what poison ivy looks like and mistakes large dogs for wolves.
In fact, I go out of my way to buy ranks that I don't feel will be particularly useful just because I feel the character needs to have them. A ranger who doesn't have any ranks in Craft(bows), and is thus unable to craft new arrows while away from town, makes absolutely no sense to me. Even if I have every intention of buying my arrows with adventure loot, I spend the skill points to have a couple of ranks of Craft(bows), because it's something the character would know!
This is my thinking on the character level, but rarely have I adopted many campaign-level rule systems, letting the overall campaign evolve a bit more freely. In part, this is just because I've never seen campaign-level systems that seemed flexible enough to do what I wanted, yet still provided useful guidance for characters. That is until I got my copy of Pathfinder's new Ultimate Campaign (Paizo, Amazon) supplement, which instantly got implemented into my current campaign and has enriched the options in just a single game session. Now if my players say, "I want to own a tavern" or "I want to build a kingdom," I can tell them exactly what it will take, instead of just making something up.