The Complete Carpenter: Big Trouble in Little China (1986)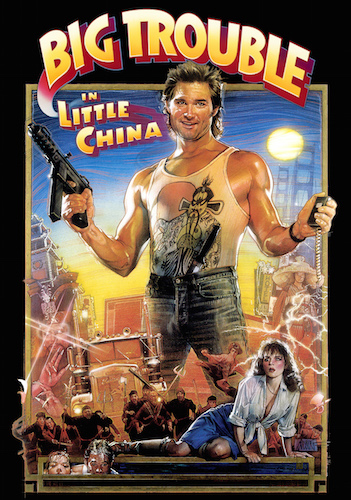 John Carpenter has seen plenty of his films underperform when first released, only to turn into cult icons years later. But Big Trouble in Little China, Carpenter's ninth feature film, didn't just underperform. It was the biggest flop of his career up to that point, pulling in $1.1 million against a budget of $25 million. This ended Carpenter's phase with the big studios and sent him back to the indie world.
Big Trouble in Little China started on the page as a Western set in 1899. It was rewritten for a modern-day setting by script-doctor (and Buckaroo Banzai director) W. D. Richter before Carpenter arrived. Carpenter sparkled up the screenplay with his love of screwball comedy characters and dialogue and took inspiration from Chinese martial arts fantasy movies like Tsui Hark's Zu Warriors of the Magic Mountain. Out of this stew, Carpenter created what he called "an action adventure comedy Kung-Fu ghost story monster movie." Something for everybody. Kurt Russell promised audiences in a promotional featurette that they'd definitely get their five-bucks' worth.
But the final product baffled the executives at 20th Century Fox. The studio dumped the promotional marketing into the sewer, contributing to the movie's massive box-office crash. But, according to the Law of John Carpenter Cult Movies, Big Trouble in Little China gained a second life on cable and video. By the mid-'90s, when the Hong Kong martial arts fantasy/comedy genre blew up in North America, this ode to Kung Fu, movie serials, Chuck Jones, and clueless macho heroes had become a classic.
The Story
Jack Burton (Kurt Russell) is the tough-talking, hoagie-munching truck driver of the Pork Chop Express. He arrives in San Francisco and meets his buddy Wang Chi (Dennis Dun) for beer and pai gow. Jack drives Wang to the airport to pick up his friend's fiancée, Miao Yin (Suzee Pai), who's arriving from Beijing. But at the airport, a Chinatown street gang kidnaps Miao Yin to sell to a brothel. When Jack and Wang pull into Chinatown to search for her, they land in the middle of a war between the ancient societies the Chang Sing and Wing Kong — as well as an eruption of strange magic that leaves Jack Burton confused for … well, pretty much the rest of the movie.