Modular: Trouble in the '80's with Tales from the Loop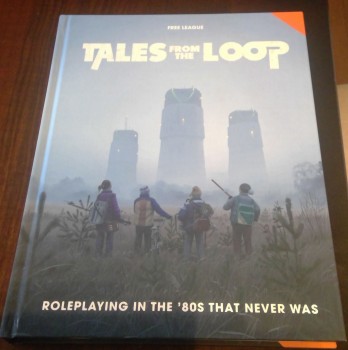 As a child of the '80's, I grew up with the understanding that a group of kids might stumble upon a series of mysterious events and have to band together to deal with the challenges from it. Parents, law enforcement, and other authorities would be of no help, so there was no point in telling them what was going on. They either wouldn't believe it or, worse, would stop the kids from fixing things. The kids, through determination and luck, were the only hope to set things right … whether it was finding a way to keep their families from being evicted, returning a strange visitor to another planet, or stopping rampaging monsters. Or, heck, even just making it through a day of detention.
E.T., The Goonies, Stand By Me, The Breakfast Club, Flight of the Navigator, The Last Starfighter, Lost Boys, SpaceCamp, Gremlins. These are the types of films, along with more recent period pieces like The Iron Giant and Stranger Things, and maybe a touch of the SyFy Channel's television series Eureka thrown in, that inspire the science fiction role-playing game Tales from the Loop from Modiphius Entertainment.
Tales from the Loop centers around a community in the 1980's that is home to a research center and particle accelerator, called "The Loop." There are actually two settings outlined in the book: the Swedish island of Svartsjolandet or the American town Boulder City. Whichever community your characters live in, you play a group of Kids who come into contact with a Mystery related to the particle accelerator, and join together to resolve the Mystery. The game can be extremely episodic, great for a standalone one-shot game, or played in a more "sandbox" format where the players are able to explore the setting in more depth, allowing for a more long-term campaign.