Steve Harrison Reconsidered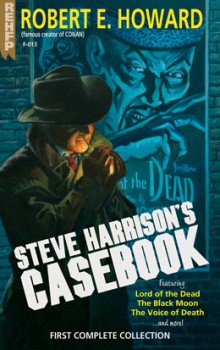 The following article was first published on July 28, 2016 at the now defunct REH: Two-Gun Raconteur blog. Thank you to John O'Neill for consenting to reprint my odd stray article so it is archived at Black Gate, which is home to over 275 of my articles written over the past decade. Thank you to Damon Sasser without whom the original article would not exist. Minor editorial changes have been made to the original text.
It has become fashionable to regard Robert E. Howard's Steve Harrison as the author's lone failure. Much is made of what Howard expressed in letters about disliking hardboiled detective stories as both an author and a reader. Emphasis is placed on the fact that very few of the Steve Harrison stories found a market in the author's lifetime. Critics measure the Steve Harrison tales against Hammett and Chandler and dismiss Howard's efforts with disdain. All of this ignores how the character first came to prominence in the late 1970s when Berkeley Books collected "Lord of the Dead" and "Names in the Black Book" in Skull-Face.