Rising Star Indie Publisher Mirror Comics on their Weird Western Mission Arizona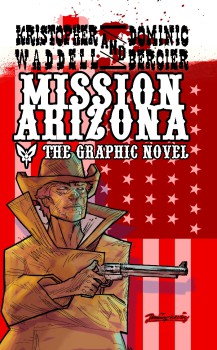 Mission Arizona, the graphic novel from indie publisher Mirror Comics, recently came out on ComiXology. I already had a paper copy and loved this take on the weird western (like the dark weird westerns Buried Eyes by Lavie Tidhar or A Feast for Dust by Gemma Files), but I knew less about making comics or the changes in the comic book industry with e-comics sites like ComiXology, so I decided to chat with Mirror. Dominic Bercier is the president and publisher (and artist of Mission Arizona), while Kristopher Waddell is the editor-in-chief and co-publisher (and the writer of Mission Arizona). Both live in Ottawa, Canada.
Mission Arizona is a dark weird western about an old west town that has an unpleasant crossing with the supernatural world. Its outlaw hero is destined, by fate and birth, to face this supernatural evil.
Derek: Where does Mission Arizona come from? It's got a bit of a spaghetti western feel, overlaid with the destiny of facing off against a terrible evil, but begins with a travelling showman sequence. How did these different flavors make it into the mix?
Kris: My interest in writing in this genre came from my childhood experiences watching old Roy Rogers and Gene Autry westerns with my Dad. Horror has always interested me because I'm fascinated by the abject, and our culture's obsession with fearing the other. It probably doesn't help that I watched Nightmare on Elm Street, Jaws and Alien at a very young age.
In Mission, I really wanted to explore loss and redemption. Padre Martin Risk loses his wife and child, Samuel Risk loses his home and his family, while the town of Mission loses its soul. I wanted to write about the struggle and the consequences of dealing with loss, and the protagonist's fight for redemption.