A Bit of the Roman Empire in my Pocket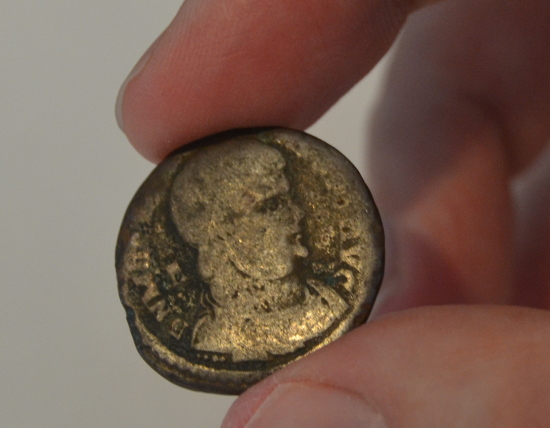 As a writer, sometimes I get my inspiration in strange ways.
Going to art galleries is one. For some reason, enjoying fine art that isn't writing fires up my writing. I also like to collect odd and interesting objects, although they have to be cheap because, you know, I'm a writer.
One of my favorites is this Roman coin that I snagged for 10 euros ($11.50) at a local coin shop. It was so cheap because the coin is in pretty bad condition. I didn't care, because it's cool to keep a piece of the empire in my pocket.
For a year I wasn't able to identify it, but then at a party in Oxford I lucked out. I was showing it off and one of the people there knew a former numismatist for the British Museum. We took a couple of shots of it and sent it to her. An hour later I learned it was a coin of Magnentius, a usurper who ruled in the Western Roman Empire from AD 350-353.