Back to the Books for the Theater of the Mind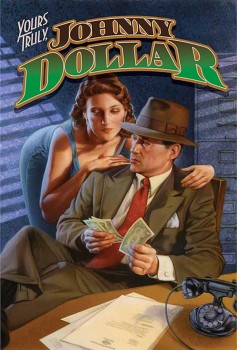 I came to Old Time Radio late in life. My parents were born in 1940 and 1942, respectively. They remembered radio shows from their childhood, but the advent of television made more of an impact on them. During my teen years, one of our local UHF stations briefly picked up reruns of the jazz noir detective series Peter Gunn (1958-1961) in the mid-1980s and I was instantly hooked. A set of Peter Gunn episodes on VHS followed in 1989 from Rhino Records. Before long, I was hunting for Henry Kane's well-written paperback tie-in and the goofy Dell Comic (where Pete tracks down villains trafficking in counterfeit collectible postage stamps). 2002 would bring the first DVD sets of Peter Gunn. By the time the entire series was on DVD, so was its companion series, Mr. Lucky (1959-1960); and then I discovered the imitation series, Johnny Staccato (1959-1960) which successfully blended concepts from both series before adding a healthy dose of angst-ridden method acting to the mix.
I couldn't stop there of course, not with gray market sets of Peter Gunn's progenitor, Richard Diamond (1957-1960) and Mr. Lucky's successor, Dante (1960-1961) circulating among collectors. Eventually, I discovered a terrific, but nearly forgotten television adventure series, Hong Kong (1960-1961) and reached back to find Dante had actually preceded Mr. Lucky via an earlier series, Dante's Inferno (1956). Having reached the end of the line for the uniquely sophisticated and stylish Golden Age of Television detective and adventure series that appealed most to me, I decided to venture into the largely unknown waters of Old Time Radio.