Random Review: "Reborn" by Ken Liu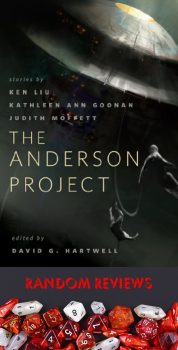 In 2014, David G. Hartwell, at Tor Books, edited to second anthology of stories which were based on a specific painting. He provided a piece of art created by Richard Anderson to multiple authors and asked them to write stories inspired by the art. The first of the three novelettes to appear in The Anderson Project is Ken Liu's "Reborn."
The world of "Reborn" is one in which humans are living in an uneasy relationship with the alien Tawnin. The story opens with the arrival of a Tawnin ship, returning some of the Reborn, humans who have been altered by the Tawnin, back to Earth.  A crowd has gathered for the event and Josh Rennon, a policeman working with the Tawnin, as well as one of the Reborn, is on the scene to see if he can spot anyone who is less than happy with the Tawnin's residence on Earth.  When a bomb explodes, he is able to apprehend someone who appears to be connected with it.
Although the story begins to take on the tone of a police procedural, Liu is interested in following up on several different threads.  Rennon is in a relationship with Kai, one of the Tawnin, and Liu explores what their relationship means, from a physical as well as an emotional and intellectual point of view. In some ways, both Kai and Rennon are new.  As a Reborn, some of Rennon's memories have been excised from him while the Tawnin take the view that just as their cells are completely replaced every few years, so too are their memories, and so a Tawnin today is a completely different individual than the person thie was a decade earlier.
The procedural potion of the story also continues and Rennon begins to discover that his suspect appears to be part of a larger conspiracy.  As Rennon tracks down the threads that appear during his interrogation of the suspect, he comes across the mysterious Walker Lincoln, who appears to be the key to this particular terrorist cell, even if there doesn't seem to be a record of Lincoln.  Nevertheless, Rennon insists on following up on any leads, which makes his colleague Claire, as well as Kai, concerned about where the investigation is taking him.