Chris Braak Reviews The Last Four Things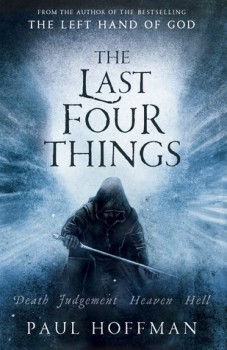 The Last Four Things
Paul Hoffman
Dutton Books (384 pp, $26.96, hardcover August 2011)
Reviewed by Chris Braak
The Last Four Things is the sequel to Paul Hoffman's runaway hit The Left Hand of God – a droll, sword-and-more-swords epic set in a kind of topsy-turvy analog for Europe during the Hundred Years War. Like all second books in a trilogy, the proof of this one will lie in how the third book ties these loosened strings altogether.
The signature elements of Hoffman's first novel are here in abundance: the dry wit, the simple but cleanly drawn characters, the tense and stirring depictions of large-scale military conflict; as well are some of the more troublesome elements, like Hoffman's tendency to distractingly remix and incorporate recognizable bits of history and literature into the narrative.
After the events of The Left Hand of God, Thomas Cale (the eponymous Left Hand) and his friends — Kleist, Vague Henri, and IdrisPukke — find themselves separated by the machinations of the Lord Militant Redeemer Bosco. While Thomas Cale begins waging a series of campaigns on behalf of the imperialistic and puritanical Redeemers, Kleist the archer ends up making a home for himself in a tribe of cowardly, philosophical bandits called the Klephts. Cale's hunger for escape and the Redeemers' bloody-mindedness drive the two of them apart at first, and then slowly back together; the stage is set for a climax in the upcoming third book.