Yes, The Civil War Was About Slavery (The Confederates Said So)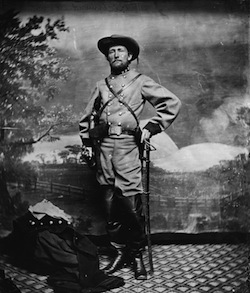 In June of 1902, former Confederate cavalry raider John Singleton Mosby wrote to his friend Judge Reuben Page about the war that had given him his fame, bemoaning the fact that the causes of that war were already being lost in the public's consciousness.
In retrospect, slavery seems such a monstrous thing that some are now trying to prove that slavery was not the Cause of the War. Then what was the cause? I always thought that the South fought about the thing that it quarreled with the North about.
Mosby, whose family had owned slaves, was talking about an increasing trend among Confederate veterans and former Confederate politicians to whitewash the reasons for the war. In a letter five years later to another friend, Sam Chapman, he wrote,
I wrote you about my disgust at reading the Reunion speeches: It has since been increased by reading Christian's report. I am certainly glad I wasn't there. According to Christian the Virginia people were the abolitionists & the Northern people were pro-slavery. He says slavery was 'a patriarchal' institution – So were polygamy & circumcision. Ask Hugh if he has been circumcised.

Christian quotes what the Old Virginians said against slavery. True; but why didn't he quote what the modern Virginians said in favor of it – Mason, Hunter, Wise &c. Why didn't he state that a Virginia Senator (Mason) was the author of the Fugitive Slave law – & why didn't he quote The Virginia Code (1860) that made it a crime to speak against slavery, or to teach a negro to read the Lord's prayer.
I have written two military history books on the Civil War, as well as two novels and numerous shorter works, and I constantly come up against the notion that the war was fought for "states rights." As a political science professor friend of mine rebuts, "The right to do what?" The answer, of course, was the right to own other people. Confederate documents at the time make this abundantly clear, but after the war many rebels were embarrassed that they ripped the nation apart over slavery and sought to bury that idea.