The Golden Age of Science Fiction: "Enemy Mine," by Barry B. Longyear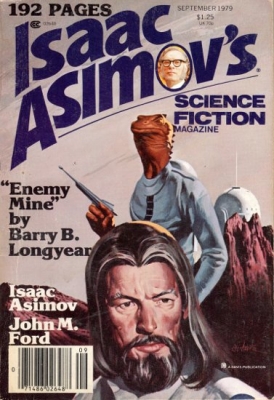 The Best Novella category was not one of the original Hugo categories in 1953. I twas introduced in 1968, when it was won by Philip José Farmer for "Riders of the Purple Wage" and Anne McCaffrey for "Weyr Search." Since then, some version of the award has been a constant, with the exception of 1958. In 1980, the awards were presented at Noreascon II in Boston.
The Nebula Award was created by the Science Fiction Writers of America (SFWA) and first presented in 1966, when the award for Best Novella was won by Brian W. Aldiss for "The Saliva Tree" and Roger Zelazny for "He Who Shapes." The award has been given annually since then.
The Locus Awards were established in 1972 and presented by Locus Magazine based on a poll of its readers. In more recent years, the poll has been opened up to on-line readers, although subscribers' votes have been given extra weight. At various times the award has been presented at Westercon and, more recently, at a weekend sponsored by Locus at the Science Fiction Museum (now MoPop) in Seattle. The Best Book Novella Award dates back to 1974, when the short fiction awards were split into Short Fiction and Novella lengths. Frederick Pohl won the first award. In 1980. The Locus Poll received 854 responses.
In January, I wrote about Barry B. Longyear, the winner of the John W. Campbell Award in 1980 and explored the vast amount of fiction he published in 1978 and 1979. At that time, I dismissed his biggest hit with a single line, "His breakout story, of course, was "Enemy Mine," which will be covered in more depth in the article on that novella's various awards for the year." Now is come the time to discuss that story.