Spotlight on Fantasy Webcomics: Thistil Mistil Kistil's spin on Loki
It's the official release date for Marvel's Thor: The Dark World, and posts on Norse Mythology, the Thunder God, and the Trickster Loki are cropping up all over the Internet. (Fantasy author Max Gladstone's post on "The Real Loki" at Think Progress is one of my favorites.) I'm grateful to Marvel for drawing attention to Asgard, especially because it gives me the excuse to write about one of my very favorite webcomics, Thistil Mistil Kistil (TMK) by Sarah Schanze. It's a unique spin on Norse mythology that features Loki as one of the major protagonists — and while he's still a trickster with a distinct tendency toward chaos (and probably ADHD), he's not the villain that the stories so often make him out to be.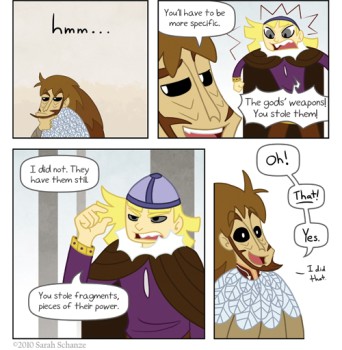 The story begins with Coal, a young Viking warrior who ought to be on his way to Valhalla. But despite his heroic death, he's brought to Odin and the All Father (with the help of an irritable Thor) explains that Loki has stolen the weapons of the gods and it's up to Coal to get them back. Since Loki once saved Coal's life, Coal believes he might just be able to accomplish the task — but Loki being Loki, it's not going to be simple. Set during the Viking Era, with plenty of detail about the world in which the historical (rather than mythical) Vikings explored, TMK combines fantasy, history, and mythology in one big quest tale. And as Coal and Loki search for the missing weapons (because of course Loki doesn't have them any more — that would be too easy!), new non-Viking characters–including shy Hedda, the former thrall, and Ibrahim, a Moor scholar–get pulled into the adventure.
I discovered TMK in 2010, through Comic Creators for Freedom, a group that does a fundraiser every year to promote awareness of and fight against human trafficking. That was where I first met Hedda, who doesn't appear until Chapter 5 of the story (so I had to wait a while to actually see her appear). For people unfamiliar with CCF's fundraiser, the comic creators collaborate on a desktop wallpaper featuring characters from each of their comics, which donors to the fundraiser receive. All of the donations go to the charity Love146. I've found several of my favorite webcomics through the fundraiser, and I feel good about supporting artists who are involved with the charity.