Birthday Reviews: John Shirley's "Occurrence at Owl Street Ridge"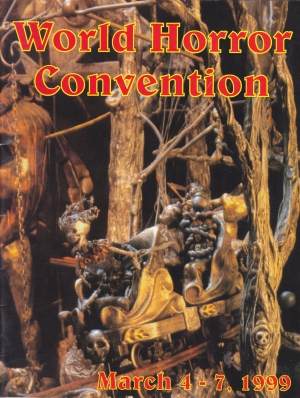 John Shirley was born on February 10, 1953. Shirley's novels include his debut, Transmaniacon, inspired by the Blue Öyster Cult song "Transmaniacon MC," the Eclipse trilogy, and Crawlers. He has written men's adventure novels under the pseudonyms D.B. Drumm and John Cutter, as well as several film and comic tie-in novels.
Shirley won the Bram Stoker Award and the International Horror Guide Award for his collection Black Butterflies: A Flock on the Dark Side in 1999. That same year, he was the Author Guest of Honor at the World Horror Convention in Altanta. In addition to his career as a writer, Shirley has performed with the band The Screamin' Geezers and has written lyrics for Blue Öyster Cult and an episode of Star Trek: Deep Space Nine.
Although John Shirley's "Occurrence at Owl Street Ridge" was originally written for Strange Attraction, an anthology of stories based on the Dark Carnival sculptures of artist Lisa Snellings (itself inspired by the Dark Carnival writings of Ray Bradbury), the story first saw print in the program book for the 1999 World Horror Convention, held in Atlanta with Snellings as the Artist Guest of Honor and Shirley as the Author Guest of Honor. Shirley also included the story in his 2001 collection Darkness Divided.
The title "Occurrence at Owl Street Ridge" is, of course, a reference to Ambrose Bierce's "An Occurrence at Owl Street Bridge," and Bierce plays a minor role in the story, which is also modeled after Bierce's tale of the attempted execution and escape of Peyton Farquhar. In this case, Shirley's main character is Dana, a disaffected woman who has lost her job as an executive assistant because she was caught using her work computer for her hobby as an artist one time too many.
Returning home to share the news with her husband, Reuben, who is only working part time at the brewery, she comes across her four teenage kids, each with their own issues ranging from asthma to potential drug use to weight issues. Rather than getting the support she needs from her homelife, she only sees how miserable her entire family is.