Shaka When the Walls Fell: The Brunnen-G When They Sang "Yo-Way-Yo"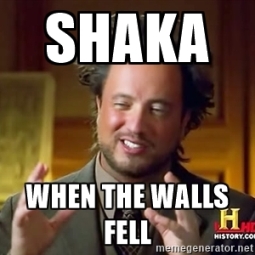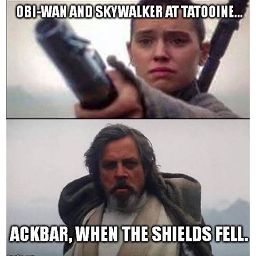 I'm not a Trekkie so I had to google it. You know? That meme: "Shaka When the Walls Fell."
Turns out it comes from a really clever Star Trek: The Next Generation episode where the universal translator for once doesn't work because the aliens talk crap all the time in allusions (link).
So, if you are a Tamarian, you don't say, "I am feeling depressed because my girlfriend dumped me." Instead, you say, "Rastar when she wandered alone and rejected."
Cute idea that makes a good point: Literal — word for word — translations aren't always very useful. For example, in medieval King Arthur stories you might find people's kidneys yearning for each other. A better translation might be "heart."
(It rather breaks down when you imagine the day-to-day. How does one say, "Mummy, can I have a drink of water?" Or, "Please adjust the size by 5mm." And what did the people of Shaka say when the walls came down? But then, I am not a Trekkie.)
This is just one episode in a really big fat franchise, but it's the one people make memes of, and I don't think it's because of the interesting angle on xeno-linguistics. Nor do I think it's about the humor. There's something about the way those lines resonate.
One line from one episode out of nearly 200. It doesn't describe onscreen drama; it all happened offscreen long ago. Nor does it relate to the serial characters or their culture, the Federation.
So, though it's a script-writing win, it also arguably points to a series-building fail. The aliens of the week are more resonant than the entire crew and their story.
Now, who remembers Lexx?