Neverwhens: Where History and Fantasy (Careers) Collide — an Interview with Christian (and Miles) Cameron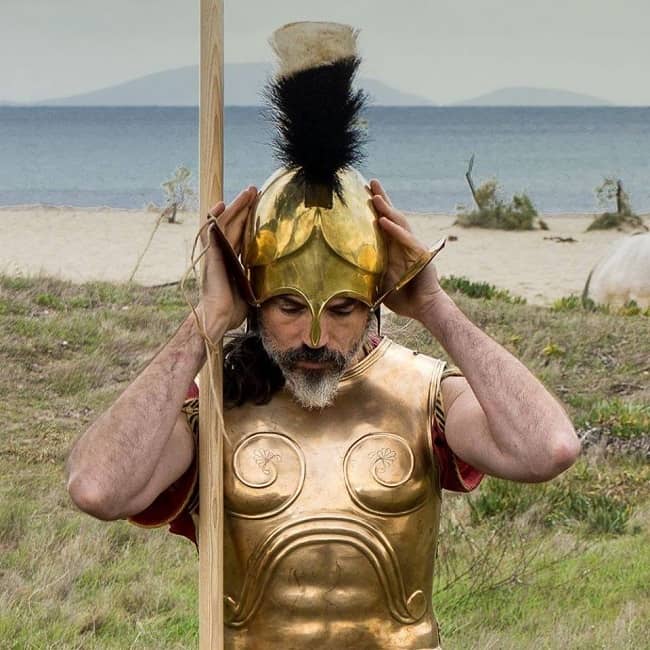 Christian Cameron as a Hoplite
Christian Cameron, a well-known historical fiction author who writes espionage novels under the pen name Gordon Kent and fantasy under Miles Cameron, is a Canadian novelist who was educated and trained as both an historian and a former career officer in the US Navy. His best-known work is the ongoing historical fiction series Tyrant, set in Classical Greece, which by 2009 had sold over 100,000 copies. But in recent years he's not only chronicled ancient Greece, but 14th-century European history — military, chivalric, and literary — in England, France, Italy, and Greece and roughly in parallel with the career of Chaucer's knight (the Chivalry series). And, as Miles Cameron, he also writes fantasy with the Traitor Son tetralogy and Masters & Mages trilogy.
Cameron is a passionate reenactor, and uses the experiences of reenacting, including knowledge of the material culture and the skill sets required to recreate any portion of life in the past as essential tools in writing his novels. Cameron helps organize and direct military and non-military reenactments in the United States, Canada, and Europe. In addition to recreating the life of an early 5th-century BCE Plataean Hoplite, Cameron also runs a group dedicated to the role of rangers and Native Americans in the American Revolution, and participates in tournaments as a knight of the late 14th century. One such tournament is the Deed of Alms, an annual HEMA (Historical European Martial Arts) charity tournament hosted in Toronto to combat homelessness.

GDM: So you've had a long and very successful run as an historical fiction writer before adding fantasy to your repertoire. Which genre was your first love?
CC: Fantasy all the way.  Except Dumas' Three Musketeers, which is to me the greatest adventure novel ever written. I had a friend who was seriously in to 'Old School' fantasy; Lord Dunsany, Tolkien, E.R. Eddison, Robert E Howard… etc.  Amazing stuff.