October Is Hammer Country: Hands of the Ripper (1971)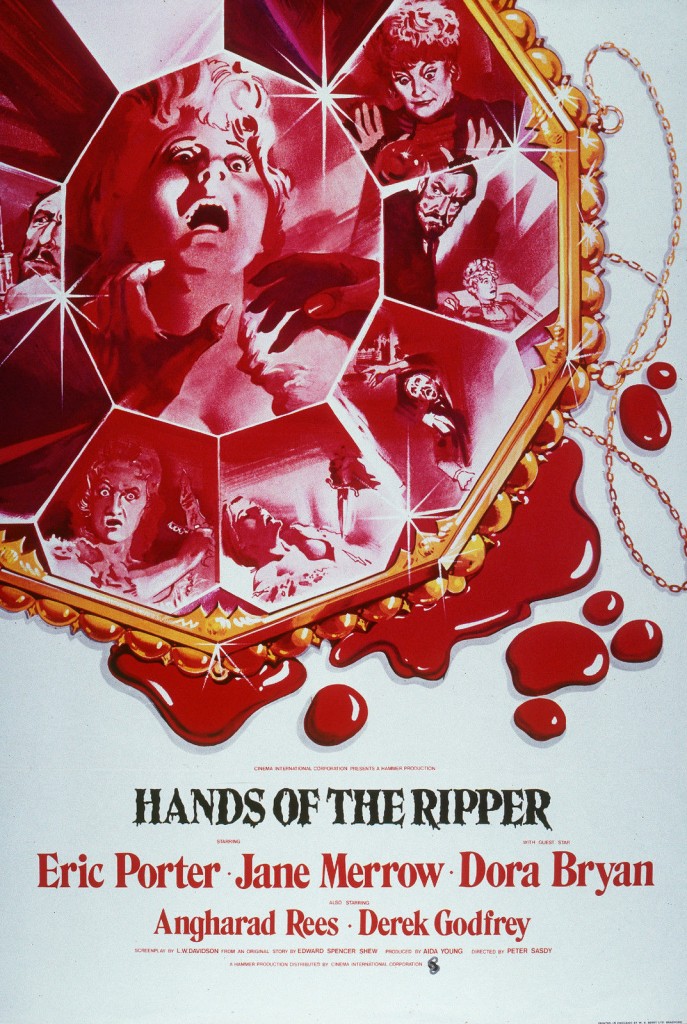 "You can't cure Jack the Ripper!"
Hammer Film Productions was a different place in the 1970s than in the 1950s and '60s. And although it was generally a less artistic place after in-house development stopped and the original producers left, it wasn't an awful place. It's similar to third season original Star Trek: more bad episodes than before, but what's good is still damn good. You got "The Way to Eden," but you also got "The Enterprise Incident." With Hammer, you got the dreadful The Horror of Frankenstein, but you also got Hands of the Ripper — which, for my money, is Hammer's best horror film of the decade. It was originally released on a double bill with Twins of Evil, making it the last great Hammer double feature.
Jack the Ripper has fueled many mystery and horror films. Hammer visited the topic in their pre-Gothic days in a 1950 period crime drama, Room to Let. It wasn't until 1971 that the studio gave the Ripper the full horror treatment. Two treatments, in fact. Hands of the Ripper was shot at the same time as Doctor Jekyll and Sister Hyde, a sex-change twist on Stevenson's novel set during the Whitechapel killings. Weird as the Sister Hyde idea may sound, it's Hands of the Ripper that takes the dramatically more challenging and interesting approach to Jack the Ripper. Rather than set the story during the original killings in the late 1880s, the screenplay by L. W. Davidson (from an original story by Edward Spencer Shrew) shifts forward fifteen years to Jack the Ripper's daughter, teasing a spirit possession story and giving the Ripper's gory hands and misogynistic rage to a young woman.
Hands of the Ripper was shot at Pinewood Studios with Hungarian director Peter Sasdy in the director's chair. Sasdy already had a history with Hammer. He directed the best of the Dracula sequels starring Christopher Lee, Taste the Blood of Dracula (1969); but in 1971 he was coming off Countess Dracula, a bizarrely boring movie based on the story of Countess Elizabeth Bathory. Re-teamed with producer Aida Young, who worked with him on Taste the Blood of Dracula, Peter Sasdy recovered and made one of his best movies. Young was one of the few women producers in England at the time, and her other Hammer films include Dracula Has Risen From the Grave and When Dinosaurs Ruled the Earth. Considering she produced Sasdy's best films, the two must have shared a powerful creative partnership.