The Golden Age of Science Fiction: H. Warner Munn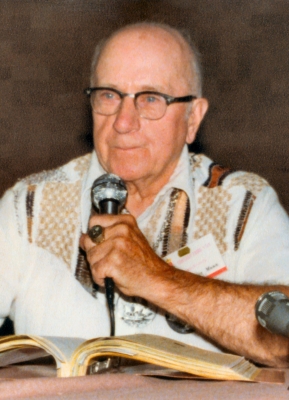 The Balrog Award, often referred to as the coveted Balrog Award, was created by Jonathan Bacon and first conceived in issue 10/11 of his Fantasy Crossroads fanzine in 1977 and actually announced in the final issue, where he also proposed the Smitty Awards for fantasy poetry. The awards were presented for the first time at Fool-Con II at the Johnson County Community College in Overland Park, Kansas on April 1, 1979. The awards were never taken particularly seriously, even by those who won the award. The final awards were presented in 1985. Although the Balrog Award for Poet was presented each year of the Balrog's existence, it only went to four different winners, with H. Warner Munn winning the award twice and Frederick Mayer winning it three times.
H. Warner Munn was born on November 5, 1903 and died of cancer on January 10, 1981. Munn's mother died when he was an infant and he was raised by his grandmother, who was a correspondent with Jules Verne and H.G. Wells. Munn began his own correspondence with H.P. Lovecraft who suggested that Munn try telling a story from a werewolf's perspective. The resulting novelette "The Werewolf of Ponkert" became Munn's debut story when it appeared in the July 1925 issue of Weird Tales.
Munn and Lovecraft were not only correspondents, but also knew each other, visiting at each one's homes in Providence, Rhode Island and Athol, New York. During this time, Munn helped Lovecraft formulate and eventually write the story which would become "In the Mountains of Madness."