Ancient Worlds: Killing the Bull of Heaven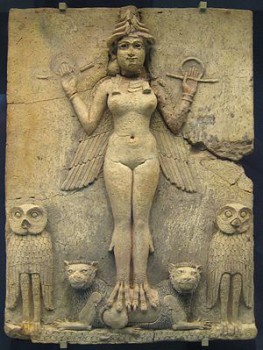 When you kill the Big Bad, it gets attention.
Gigamesh and Enkidu return to Uruk after Humbaba's death. Gilgamesh bathes and puts on his royal garments. This effect is so impressive that the goddess Ishtar herself appears before him and begs her to marry him.
If you remember back to the Odyssey, this is a pretty typical motif: the hero who is so manly that goddesses are laid low. But while Odysseus tried to have his cake and eat it too (pardon the expression), Gilgamesh has absolutely no interest in playing nice.
He does not offer Ishtar a polite refusal. He calls her a whore. He lists the many lovers she has had and their terrible fates.
And that is just the beginning. He calls her:
a half-door that keeps out neither breeze nor blast,
a palace that crushes down valiant warriors,
an elephant who devours its own covering,
pitch that blackens the hands of its bearer,
a waterskin that soaks its bearer through,
limestone that buckles out the stone wall,
a battering ram that attracts the enemy land,
a shoe that bites its owner's feet!