Modular: How to Introduce Kids to Tabletop Role-Playing #2: Actually GMing Kids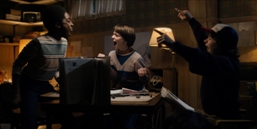 GMing for kids (read part 1) is pretty much like GMing for adults ; almost too much like.
Kids — especially geeky ones — don't evolve into adulthood in a linear way. A 10-year-old can be like a 15-year-old and a 9-year-old sharing the same brain (and same bedroom, as Warhammer figures jostle with Lego). It's very easy to GM to their more grown-up aspects and forget their younger ones, which can then throw a spanner in the works.
Obviously, it all depends on the kids and your relationship with them. However, here's what I've learned…