English Gothic: Britain Goes to the Movies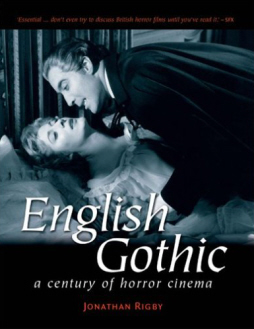 Jonathan Rigby's ENGLISH GOTHIC (2000) is an excellent survey of British horror and science fiction films. Misleadingly subtitled A CENTURY OF HORROR CINEMA; the book focuses instead on the 20 year period from THE QUATERMASS XPERIMENT (1955) through TO THE DEVIL, A DAUGHTER (1976) when British production companies like Hammer, Amicus, and Tigon consistently outperformed the Hollywood majors in producing the finest and most influential genre films.
Part of the book's strength is not just Rigby's detailed and chronological survey of nearly every genre film to come from the British Isles during these two decades, but the fact that he captures the social and economic factors that helped shape the pictures and, more importantly, the public's reception to them.
The rise of the horror genre in film started with the German Expressionist classics of the silent era and the contemporary Lon Chaney and John Barrymore efforts in the States. The genre solidified with the phenomenal impact of Universal's horror franchises of the 1930s and 1940s.
The interesting thing here is that the majority of these films remained unscreened or else limited to adult-only audiences in the UK where censorship was extremely puritanical in the first half of the last century.