Kickstarter Alert: Dungeon Roll Dice Game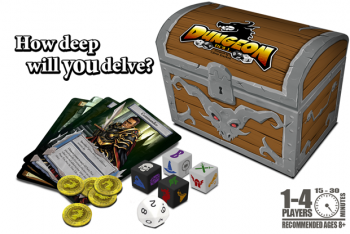 Tasty Minstrel Game's latest Kickstarter project has blown away funding goals and, with a week left, looks to be one of the best Kickstarter deals that I've seen in quite some time. This game is basically a dice-based dungeon crawl in a box (a treasure box, no less … and a mimic box for Kickstarters!) that has 7 days to go as of this writing (funds at 1:00 am Eastern on March 20).
The basic gameplay (as demonstrated in this video) is that you're rolling a group of Dungeon Dice to get the monsters on a given level of the dungeon and then the Party Dice to try to get a combination that can beat the monsters. The different faces of the Party Dice get different benefits against given monsters, such as a Wizard on the Party Dice being able to destroy all of the Oozes with a single attack. The Heroes can modify the basic rules (the first 5 Heroes are shown on the video here). The goal is to get treasure and experience, making your way through the dungeon.